A Constitutional Assembly in Venezuela to born anew or War.
⇒ Countdown To War On Venezuela
In America, the Mossad hidden hand is planning a new war, through a coup against President Trump whose aim « America First » sends a message of peace and concord to the rest of the World.
The sentinels of the Invisible Mossadic empire, parliamentarians, are trying their best to maintain the dreadful foreign status quo.
It is quite simple : firing the FBI chief, one of the Masters of the Evil Empire, unmovable and untouchable has weakened the Criminal Alliance.
⇒ Bipartisanship! The Evil Party and Stupid Party Team Up to Cripple Trump, Subvert the Rule of Law, and Put the US on a Road to War
If the Republicans lose the House next year, Trump without any doubt will be impeached. And unlike Democrats, who rallied around « their » president Bill Clinton, enough GOP Senators will rush to convict Trump. He'll have to resign or be removed. The Deep State's soft coup will have succeeded.

***

MOSSADISM OR AMERICANISM. THE PEOPLE HAVE ALREADY CHOSEN. BUT THE EVIL NEVER REST.
The reason is the Mossad Regime can not go without taking lifes. Those are zero creators. How do they make money, with this abyssmal ignorance ? Their business is risks free. How do you have this ?
Corrupt Parliaments comes  first, as a secured strategy.
Endless wars and the business of killing the people, stealing their lands, occupying them entirely and indefinitely… in short, criminal activities are the most profitable and less risky. You kill the opponents or you organize to neutralize anyone who dares stand on your way (sabotaging and witchhunt in band)… and you shut the freedom of speech down. Walking out like a terrorist, even terrorizing the Justices or hiring them as Mossadic sentinels…and thereafter anything can happen.
Criminality can be changed into Sanctity and Purification. Serial scams into expertises. Hooliganism into Democracy. Evil into Law. Mass Murders into Humanitarian wars. Bandits can wear the mask of the Saviors.
This is the Mossadism Global Regime of Terror, Hate and Savagery. Worms are out of the can. Invasion, invasion and invasion.
⇒Whistleblowers Expose NSA-Partner Israel's Corrupt Use of Surveillance Information
Excerpts. « Forty-three members of Unit 8200 have written a letter to Israel Prime Minister Benjamin Netanyahu and several Israel military leaders declaring that they "refuse to take part in actions against Palestinians and refuse to continue serving as tools in deepening the military control over the Occupied Territories." The letter focuses largely on how intelligence information is used to invade privacy, engage in political persecution, create divisions in the Palestinian population, fuel violence, and extend the Israel-Palestine conflict.
James Bamford, whose insightful writing regarding the National Security Agency spans over 30 years, reported last week in the New York Times that members of the "large and very secretive Israeli military organization" have exposed the corrupt use of surveillance information, including "that data were gathered on Palestinians' sexual orientations, infidelities, money problems, family medical conditions and other private matters that could be used to coerce Palestinians into becoming collaborators or create divisions in their society."
Killing and Dying for the Invisible Empire. Madness!

⇒ Killing and Dying for Minerals
MONDAY, HE 31ST JULY. RUSSIAN SANCTIONS AND THE ART OF DISGUISEMENTS.


SO THE REPUBLICANS ARE WORKING FOR DEMOCRATS AS LAPDOGS. AGAIN THE ESTABLISHMENT IS LOOKING FOR ITS OWN DEEP POCKETS. The Republicans are failing Trump's promise. America First is a New Deal. 


 BETRAYERS OF THE NEW DEAL « AMERICA FIRST » AGENDA.
Russian response after the Madness decision over stupid sanctions. Stupidity, Evil and Nullity.
⇒Russia's Expulsion of Staff From the US Embassy in Moscow is Unprecedented and Huge (Read The Ron Paul Institute).
« This fact illustrates a greater truth: for much of the US elite-  including most of the US media – the new sanctions bill is not really aimed at damaging Russia but rather at damaging President Trump.  To achieve that objective all other interests are being sacrificed.
Just as the fundamental economic interests of the US's European allies are being sacrificed to what is ultimately an internecine factional quarrel within the US of which the Russiagate scandal is only the outward manifestation, so a crippling blow to the US diplomatic and intelligence operation in Russia is being barely noticed, as those sponsors of the new sanctions bill who are not driven by purely commercial interests (see here and here) focus almost exclusively on their feud with President Trump.
The result is that US foreign policy barely exists any more ».
***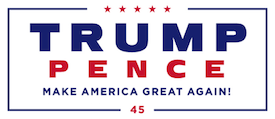 TRUMP PENCE WEEKLY NEWSLETTER
7.30.17
AMERICA IS BACK
Have you seen the markets lately? Company after company is announcing record investments in America by the billions of dollars and thousands of American jobs. Foxconn––a world leader in manufacturing for computers, communications, and consumer electronics – announced this week plans to build a state-of-the-art manufacturing facility for the production of LCD panel products in Wisconsin. This week's announcement is just the latest vote of confidence in President Trump and his economic agenda. Under President Trump, America is back!
We have a clear and simple message, ELISE. Together, you and I have made it a top priority to cut through the noise of the Fake News Media and get things done for the American people.
So far, we have…
Introduced legislation to eliminate job-killing red tape and regulations
Put a renewed emphasis on American energy and independence
Created over 800,000 new jobs for hardworking Americans
Slashed illegal immigration at the southern border by more than 60%
Now, I'm counting on top supporters like you to keep our historic fundraising pace alive with a contribution of $250, $100, $50, $25, or even just $5 today.
Donald J. Trump
President of the United States
Liberals in the Senate have made it their sole mission to OBSTRUCT the Silent Majority.
I'm making it my mission to FIGHT for you no matter what.
You voted for change. You voted for a new future. But the forces that want to keep DC a cesspool of corruption will stop at nothing to rob you of that future.
The 2018 elections are just around the corner — and our upcoming FEC fundraising deadline is a tremendous opportunity to help elect conservatives who will fight for our platform.
***
 What about the Frankfürter Allgemeine ? Hello Germany ! This is a good day.