However, there is no evidence thus far that any of the storm's victims were neo-Nazis. Houston, which has a large Jewish community, is the fourth-largest city in the country and tends to lean toward the liberal side of the political spectrum. Though Texas went to Donald Trump during the 2016 election, Harris County voted for Hillary Clinton—54 percent to 41.6 percent.
At last, we are starting getting a proper journalism, people willing to reconnect themselves to a deontology. The press, the real one, used to get one. Unfortunately, Charlie Hebdo got none of this. I found it out, while taking a stop at Google News France. Incredible, Google may have lost their compass to make this counter Charlie Hebdo false narrative public.
Charlie Hebdo's Latest Cover Shouts: 'God Exists! He Drowned All the Neo-Nazis of Texas'
Charlie Hebdo stance is in line with the fake media strategy, standing not as medias, but as sentinels of the invisible empire. Distorting the Truth and the facts is one from them. When you distort, you resort to lies and false analysis, hopefully noone will dare stand up to oppose your iron rule, without being punched down on to their knees [1].
…
If you can afford French, read also this one, by Jean Luc Melenchon, a french lawmaker. VENEZUELA VENEZUELA.
When it comes to critical journalism, Charlie Hebdo is not the only disaster in France.
⇒ Making Stuff up on Twitter is the New 'Journalism' — and We Deserve it
…
What if Harvey could have been generated by the evil ? Generating local natural catastrophes is a military strategy. Can be used as a strategy of communication. In that regards, the timing is not that hasardous. It could serve to distract or divert the public opinion and attention.


Coincidences ?
GENERATING NATURAL CATASTROPHES IS ANOTHER JEWISH BRAND TO COMPETE OR ARGUE.
Harvey's landfall – IT SOUNDS LIKE MY EBOOK « HERVE ». So coincidental. But at Hollywood will put it « any coincidence with real facts is pure hasard ».
Note also another coincidence with the title of a book. Namely « the hasard and the necessity » mentioned inside our flash of the World – listen radio-silence.org – .
In this Jewish-led World, coincidences are not. There are tellingly of the holes from where the World is cooked.
…
« The fake news does far more to help elect Democrats than the DNC ever could — and they don't even have to register as a political party ». That is why the French lawmaker, J. L. Mélenchon has dubbed them « the mediatic parti ». Consider now that you are facing not a press pretending, but a DNC hidden twin.

Elise,
The greatest threat to the Fake News Media isn't President Trump…
…It's you.
On November 8, 2016, the media watched in horror as millions of American citizens rose up from the shadows and courageously banded together to take our country back.
We refused to bow down to the establishment, we defied the media's predictions, and we rallied together under one simple, but fundamental pledge: put AMERICA FIRST.
But now that we've won, the media has waged an all-out war on our grassroots movement. This is our moment to fight back and defend what we voted for.
America First Action PAC challenges the fake news head-on, reports the truth about President Trump's accomplishments, and fights for the agenda you voted for.
I hope I can count on you to make a contribution of $15, $25, $50, $65, $100, or even $250 to America First Action PAC — the official PAC in support of President Donald J. Trump.
No matter the amount you choose to give, your contribution to protecting the American people's mandate will be enormous.
When I was working on the campaign, I saw donations of $1, $5, $7, $15 come in every minute.
Those donations might be considered small, but the contributions those patriots made toward saving America are priceless.
What I care about now is getting every American patriot on board. We need to fight back against the media who viciously attack President Trump and spread fake news 24/7 all while trying to convince innocent Americans that they're "objective" and "nonpartisan."
The fake news does far more to help elect Democrats than the DNC ever could — and they don't even have to register as a political party.
But I have faith in our movement to stop them and get the truth out to the American people.
So please make a contribution of $15, $25, $50, $65, $100, or even $250 to America First Action PAC — the official PAC in support of President Donald J. Trump.
Thank you,
Katrina Pierson
________________
[1] – Will Congress and Trump Declare War on WikiLeaks?
WikiLeaks critics claim that the organization's leaks harm US national security. However, these critics are unable to provide a single specific example of WikiLeaks' actions harming the American people. WikiLeaks does harm the reputations of government agencies and politicians, however. For example, earlier this year WikiLeaks released information on the CIA's hacking program. The leaks did not reveal any details on operations against foreign targets, but they did let the American people know how easy it is for the government to hack into their electronic devices.
If President Trump supports the war on WikiLeaks, after candidate Trump proclaimed his love for WikiLeaks, it will be further proof that he has outsourced his presidency to the deep state.
***
Follow up with our next Flash of the World  – http://www.radio-silence.org/menuFLM.html – centered on Venezuela. A reflection on how sanctions and wars have been systematically justified by a false – and therefore abusive – characterization of foreign govs targetted as dictatorships. Yesterday, it was Iraq and Lybia. Today it is Syria, Iran, Russia, Venezuela or North Korea. Who is next ?
What does it take to become a Dictatorship for the Western Press (a parti), the Administrations and the Parliaments ? It is quite simple ! The stronger a leader and the richer a nation becomes, the more this leader and His nation are likely to join the group of Dictators and dictatorships to destroy through wars and sanctions.
It has become a pattern, a model, a canvas in global diplomacy. Protecting and Preserving your sovereignty, your integrity and cultural identity is a sign of cultural, political and economical independance. Unacceptable. There is ONLY ONE KING AND ONE PEOPLE ELECTED. YOU THINK This is a really beasty way of conceiving Power ? You still are not there.
OCCUPATION IS  NOT A CHOICE. IT IS AN ULTIMATUM. A PREDESTINY.
America is blessed: the country could have been facing the same situation Venezuela is dealing with, following the Russian accusations and the numerous assaults and attempts to halt Trump's Presidency, including resorting to [extreme and unjustified] violence. Charlottesville outburst is kind of a twirlwind fall down.
… More than an ideology, there is a philosophy of life and destiny behind the Deep State Outrageous Confidence and Cool Heart.
Don't take it easy.
… NY didn't.

Elise –
Tonight we are launching the first television ad of my re-election. It's about Pre-K for All and the difference it's making in the lives of families across New York City. I wanted you to be one of the first to see it. You can do that here:
On the day we launched my first campaign for Mayor right outside of my home in Brooklyn, I promised that I would fight to provide universal early education for our children – no matter their families' means or the borough they call home.
We've done that with Pre-K for All. And in doing so, we've dramatically improved our children's chances for success in life and taken a key step toward reducing inequality. That's what we're here to do.
Watch our campaign's first television ad of the re-election and chip in $3 to help us keep it on the air.
This ad would not have happened without the support of more than 10,000 donations made by New York City residents who have chipped in small amounts of money to help get us on the air. I am very proud of that fact, and I hope that you enjoy the spot.
In solidarity,
Bill de Blasio
_________
Elise,
Over the last 7 months, President Trump has accomplished so much.
→ Ensured the confirmation of Conservative Justice Neil Gorsuch to the Supreme Court
→ Secured our country with a 50% decrease in illegal border crossings at the southern border
→ Eliminated hundreds of regulations that will result in millions of dollars in savings
→ Taken aggressive and substantial steps in the fight against ISIS
→ Added over one million new jobs to the U.S. economy
And he's just getting started.
Now, the President has asked for your input on what you care about most and what you want to see more of in the future. To share your thoughts, please take our Official Accomplishment Poll today.
TAKE THE OFFICIAL POLL
We're looking to send a report on first responses by 11:59 PM TONIGHT, so please be sure to pass this email along and take the survey to be one of the first names in front of the President.
Thank you,
Team TRUMP
TAKE THE OFFICIAL POLL
***
Not that easy ?
We are going to run Medicare for all like a campaign

Elise –
Change never happens from inside of Washington, D.C. Certainly not with this president and not with this Congress.
No, real change always comes from our communities and the grassroots. That's what the history of America is all about. It's the story of the trade union movement, the women's movement, the civil rights movement, the gay rights movement and it's why we have $15 minimum wage happening all over the country.
Because when people get organized and fight for real change, the people win. But when we are silent, the powerful almost always prevail.
So in two weeks, I am going to introduce our Medicare-for-all, single-payer health care legislation. We're going to put together a grassroots movement that organizes people in all parts of this country much like we did during the presidential race.
There will be rallies, buttons, bumper stickers, shirts and most importantly people organizing in their communities across the country. This is not going to be a quick or easy fight. We'll be taking on the insurance companies, the drug companies, Wall Street and all those who make billions in profit from the current dysfunctional system. I cannot do this alone, and I need your help to fund this work:
Can I count on you to donate $3 toward our campaign to advance legislation that will do what every other major country on earth has done?
Yes. We must join the rest of the industrialized world and guarantee health care to all as a right, not a privilege.
Today in America, despite the important advances made because of the Affordable Care Act, 29 million Americans still have no health insurance and even more are insured with outrageously high copayments and deductibles. Further, with Americans paying the highest prices in the world for prescription drugs, many cannot afford to fill the prescriptions their doctors write.
Enough is enough! I am here to tell you that a nation cannot survive morally or economically when so few have so much and so many are struggling to get by. A great and decent nation is not one in which "survival of the fittest" reigns. It is not one in which greed is rampant. We must fight to create a nation where we care for each other, and protect the most vulnerable among us. We cannot give tax breaks to billionaires and large corporations while people are dying because they can't afford to get to to a doctor or buy the medicine they need. We cannot allow insurance and drug companies to make obscene profits when families go broke because of outrageously high medical bills.
Our Medicare-for-all, single-payer health care legislation will change that. Not only will it guarantee health care for all people, it will save middle class families and small businesses significant sums of money. It will create a health care system designed to provide quality health care for all in a cost-effective way, not one designed to make billions for powerful special interests.
The campaign to pass Medicare-for-all, single-payer health care is going to be powered by people like you. People who believe that Americans who cannot afford health care don't deserve to die. So that's why I have to ask:
Can I count on you to donate $3 toward our campaign to advance and pass a Medicare-for-all, single-payer health care system in this country?
If we are still serious about transforming our country, if we are serious about rebuilding the middle class, we need to develop a political movement which is prepared to take on and defeat a ruling class whose greed is destroying our nation.
Through this campaign to pass Medicare for all, we are going to do something people remember decades from today. I am sure of it. But I am just as sure that it will only happen if we are all in this fight together.
In solidarity,
Bernie Sanders
****
DON'T TAKE IT EASY…. AFTER THE IDEOLOGY HERE COMES THE PHILOSOPHY OF THE COOLHEARTED DEEP STATE.
 A TAKE ON THE GLOBAL PHILOSOPHY LEADING THE WHITE HOUSE UNDER THE WallSt/CIA/Endless War Party OBEDIENCY. IN THIS GAME ELECTION ARE JUST A PIECE OF WARDROBE SERVING as a LURE TO THE CHAMELEON SUPREMACY.

Do we believe President Gore would have been able to resist The Regime's push for war with Iraq, post 9-11? Or that President Dole would have worked out better for ordinary Americans than President Bill Clinton?
Pulitzer Prize winning journalist Carl Bernstein revealed in 1977 that over 400 American journalists had « secretly carried out assignments for the Central Intelligence Agency. » « Within the CIA, journalist-operatives were accorded elite status, a consequence of the common experience journalists shared with high-level CIA officials. Many had gone to the same schools as their CIA handlers, moved in the same circles, shared fashionably liberal, anti-Communist political values, and were part of the same 'old boy' network that constituted something of an establishment elite in the media, politics, and academia of postwar America, » Bernstein wrote.
Not only has Trump been brought into line on Russia, he's also accepted a McCarthyite purging of White House staff/advisors who rejected or opposed the War Party's hostile stance toward Moscow. One by one, these people have been replaced by those acceptable to The Regime.
Instead of focusing obsessively on Trump, we need to be turning our attention to where the power really lies in America. Today Americans are marching over historical statues, which suits the WallSt/CIA/Endless War Party just fine. The sort of protests which would really worry them would be marches demanding the president keeps good the pledges he made on foreign policy before his election, and calls for people to boycott the entire political system as it currently stands. That would really put the big cat among the hawks as it would show to The Regime and its operatives that they've been rumbled.
Everything is done to try and prevent us from noticing and reflecting on the killer fact that US policies remain the same regardless of who is in the White House. The WallSt/CIA/Endless War Party has engineered illegal « regime change » operations around the world. But for the good of the world, and the majority of ordinary American citizens, the most pressing need for a regime change is in the US itself.
Last Eight Months Prove United States a Bonafide 'Regime'
AMERICA, TIME AFTER TIME OR ONCE UPON THE TIME.

GONE WITH THE WIND. REMEMBER THE TWIRLDOWN FALLING DOWN.

DEMAND ACCOUNTABILITY AND RESPECT OF DECENCY –
***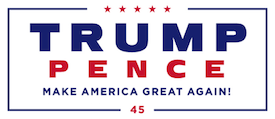 TRUMP PENCE WEEKLY NEWSLETTER
9.02.17
ONE AMERICAN FAMILY
Hurricane Harvey could be deemed the costliest natural disaster in U.S. history with early estimates totaling $160 billion dollars in damage already. On Tuesday, President Trump and the First Lady toured the affected Texas areas hit by Hurricane Harvey. The President praised the work being done across the state by government agencies at all levels, including First Responders and private citizens willing to lend a hand to help their fellow American. President Trump is proud to see Americans uniting to help those in need in the wake of this disaster, reminding us that we are all one American family. The entire administration has been working with Texas Governor Greg Abbott and officials across Texas and Louisiana to bring the full resources of the federal government to bear. All of our prayers are with everyone affected by this terrible disaster.
TAX REFORM
Right now, our country is seeing an economic comeback of historic proportions and President Trump is fighting to bring Main Street back by reducing the crushing tax burden on our companies and workers. Our catastrophic tax code costs Americans millions of jobs, trillions of dollars, and billions of hours spent on compliance and paper work. The President's goal is to fundamentally reform tax code for the first time in more than 30 years and the American people are behind him as like no other issue. In order to do this, President Trump is asking Congress to work together with his administration to create the 21st century tax code that all Americans deserve! Already this year, we have seen the fruits of President Trump's labor. Just this week, 2nd Quarter GDP was revised to a remarkable 3%. If the President's mission to deregulate our country has this much impact already, imagine what can be accomplished with historic new tax cuts and simpler tax code. If we unite in the name of common sense and common good, then we will add millions of new jobs, bring back trillions of dollars, and we will give America the competitive advantage that it so desperately needs.
GETTING CARE FOR VETERANS FASTER
In Reno, Nevada, the President delivered remarks to the American Legion's 99th National Convention and signed the Veterans Appeals Improvement and Modernization Act of 2017. This legislation will streamline the lengthy process that veterans undergo when appealing their claims for disability benefits with the Veterans Administration. More than 470,000 veterans are still waiting for decisions regarding their appeals, and it is time they stopped having to wait. President Trump stated: "No longer will veterans be kept waiting for years to get an answer to their appeals. They will receive timely updates and they will get decisions much more quickly, in a fraction of the time." Veterans across the country should know that businessman Donald Trump will continue to fix Veterans Affairs so they can receive the benefits and care they deserve thanks to their loyal and selfless service to America.
SANCTIONS FOR VENEZUELA
Vice President Pence met with Governor Rick Scott, Senator Marco Rubio, and Congressman Mario Diaz-Balart, as well as Venezuelan families discussing with them the tragic stories coming out of Venezuela. Stories of grinding poverty, families unable to find the food and medicine they need, and innocent children who are perishing every day from starvation in a country in turmoil. President Trump followed up by signing an Executive Order imposing strong, new financial sanctions on Venezuela. The Maduro dictatorship continues to deprive the Venezuelan people of food and medicine, imprison his democratically-elected opposition, and violently suppress freedom of speech in his country. The President has made it clear that we will not stand by as Venezuela crumbles. He is calling on Venezuela to restore democracy, hold free and fair elections, release all political prisoners immediately, and end the repression of the Venezuelan people. We continue to stand with the people of Venezuela during these trying times.
ALL OPTIONS ON THE TABLE
Early this week, North Korea launched a missile over Japan in their latest ballistic missile test. As you know, prior tests already earned Kim Jong Un significant new sanctions on his country, adding to the suffering of his own people. The world has received North Korea's latest message loud and clear: this regime has signaled its contempt for its neighbors, for all members of the United Nations, and for all peace-seeking nations. President Trump stated, "threatening and destabilizing actions only increase the North Korean regime's isolation in the region and among all nations of the world. All options are on the table." Americans are relieved to have a President whose leadership and strength will lead to a more peaceful world without fear of intimidation or attack from those who reject the freedoms and liberty he will defend for us and our allies in the world.
…
Sanctions. With all due respect to Senator Rubio, my best friend, ready to ask for a deserving beating to unfriendly people – politically speaking -, and with the same respect to the others decision makers, sanctions have proven more dreadful to fight « grinding poverty, families unable to find the food and medicine they need, and innocent children who are perishing every day from starvation in a country in turmoil. »
And our Best friend, Senator Rubio, knows this FACT as experienced in Iraq for instance.
Instead of curing, sanctions are aggravating the situation. One should be thinking about new approaches and axes ranging from dialog to wise partnerships.
Sanctions are counterproductive to treat emergencies or humanitarian causes. Everybody on the table knows that. What is the goal please ? To ad oil on fire in order to push the regime change agenda ? If  regime change is the solution, Brazilian example is contradicting the point. A regime change, through a coup or anything else amounted to a coup, always brings seeds of division.
Venezuela has been infiltrated by foreign agents acting underground to fuel the rebellion.
And there is more, like Iran or Sudan or Libya or Syria, Venezuela is an OPEC member. Such as Nigeria.
As such, it is an easy target for the foreign agents looking for oil to grab for free.
What is the common point between those Nations ? The Deep State have divided (Sudan) or destroyed (Lybia, Syria, Iraq) while destabilizing Nigeria and Venezuela and threatening them with sanctions (Venezuela, Lybia, Syria) and wars (Syria, Iran).
GREED IS AN INCURABLE DISEASE. ONLY LAW AND ORDER CAN STOP IT. APPARENTLY THAT IS WHAT PRESIDENT MADURO IS TRYING TO DO. AM I WRONG ? NOBODY COULD BE IN POSITION TO BUY THE NARRATIVE CONSISTING ON ACCUSING A LEADER OF STARVING HIS OWN PEOPLE.
MAY BE PRESIDENT MADURO SHOULD ASK PRESIDENT ROBERT MUGABE (ZIMBABWE) FOR ADVICE OR HELP. AFTER ALL FIDEL CASTRO CAME IN AFRICA TO HELP ANGOLA AND CONGOLESE TO FIGHT THE OPPRESSOR. AT THE TIME IT WAS VISIBLE. AFTER HIS CRUSHING DEFEAT, THE OPPRESSOR HAVE JOINED THE UNDERGROUND TUNNELS AND DARKNESS WHERE HE CAN OPERATE THROUGH MULTIPLE MASKS.
GOD BLESS VENEZUELA.
Can anybody in DC show some compassion instead of pulling out the trigger.
Don't shoot please. I'm already dead. I'm a Ghost walking back.
I'm CAPTAIN COOK. IMAGINE THE CAPTAIN MEETING IZ.
THIS IS MY PICK OF THE WE. HAVE A NICE ONE SINGING, COOKING AND SUCKING YOUR PANTS ON FIRE.
Israel IZ Kamakawiwo'ole – Ulili E
French-American connection is well-oiled : Inviting Trump in France, the independence day was cooked by DC Deep State  and Macron's whereabouts. It was a conjoined operation aimed at sucking the fruits of OUR VICTORY AGAINST THOSE SITTING INSIDE THE WHITE HOUSE WITHOUT ANY SHAME OR DECENCY.
THEY SPARE NO EFFORTS TO DERAIL TRUMP'S BID FOR PRESIDENCY.
BUT NOW THEY ARE OCCUPYING UNDESERVING SEATS SUCKING OUR JOB.
SUCKERS AS USUAL. PREDATORS WAITING FOR OTHERS PEOPLE TO TAKE THE RISKS FOR THEM TO CATCH ON.
HITILER DID IT.
WHO IS CASHING THE JACKPOT ON NAZIS TRAIN AND BIG MOMENT ?
TIME WILL TELL.
BEFORE WE EXIT, LEAVING THE CAKE TO ANTS TO DIG IN, THINK ABOUT THE WHITE HOUSE DEEP STATE SHAMELESS HOLD-UP. YESTERDAY ENEMY – TODAY FRIENDS… BECAUSE OF MONEY.
MONEY OF CRIMINALITY.
Everything is done to try and prevent us from noticing and reflecting on the killer fact that US policies remain the same regardless of who is in the White House. The WallSt/CIA/Endless War Party has engineered illegal « regime change » operations around the world. But for the good of the world, and the majority of ordinary American citizens, the most pressing need for a regime change is in the US itself.
Last Eight Months Prove United States a Bonafide 'Regime'
YOU CAN'T ESCAPE THE TRUTH. NEITHER TREATS, NOR ROBBERIES CAN CONCEAL THE TRUTH HISTORY.
MASKS ARE OFF. GOOD. WHAT STARTS WITH LIES WILL END UP IN HUMILIATION. ASK SOME PUPPETS IN FRANCE AND IN AMERICA.
NEVER PACTISE OR COMPROMISE WITH CRIMINALS. MURDERING PEOPLE WHATEVER THE REASONS ARE IS NON AN EXCUSE.
WARS IS NOT OUR FUTURE. WE HAVE THE UPPER DUTY TO STOP GOING WARS AND KILLING PEOPLE AROUND THE WORLD or DESTROYING NATIONS TO SATISFY THE ENDLESS DEEP STATE SELFISH GREED AND ILLEGAL WEALTH COMING OUT OF IT USING MULTIPLE ILLEGAL OR CRIMINAL CHANNELS.
For the good of the world, and the majority of ordinary American citizens, the most pressing need for a regime change is in the US itself.
It is also THE CASE OF FRANCE.
EXIT FROM US OR FROM FRANCE. WHO IS NATIVES FRENCH OR AMERICAN ? WHERE IS THE MASK AND WHERE IS THE REAL IDENTITY ? WHO IS WHO ? YOU SPOT THEM BY THE SNAKE TONGUE I.E. THEY NEED PICTURES TO EXPRESS THEIR MINDS. VENTRILOQUISTS RIGHTS ?
WAR WILL DECIDE THE FATE OF TRUMP'S PRESIDENCY DURING THE MID-TERM. IF HE CHOOSES WAR  – AGAIN – THEN HE HAS FORFEITED HIS PRESIDENCY TO DEMOCRATS.
THIS IS FOR SURE. WHICH MEANS 2018 COULD WELL BE END OF THE DANGEROUS BLIND AND SUCKING GAME.
The WallSt/CIA/Endless War Party has engineered illegal « regime change » operations around the world.

THE DEEP STATE IS THE CENTER OF COMMAND. THINK ABOUT IT.

Today Americans are marching over historical statues, which suits the WallSt/CIA/Endless War Party just fine. The sort of protests which would really worry them would be marches demanding the president keeps good the pledges he made on foreign policy before his election, and calls for people to boycott the entire political system as it currently stands. That would really put the big cat among the hawks as it would show to The Regime and its operatives that they've been rumbled.

This is common sense and good judgement. Exactly the kind of things that are going to earn you an « Exit Hand ». Before even entering.

I told you you still are not there. You'll see wickedness displayed the kind of which nobody could even start conceiving, as a human being.

ULTIMATELY DIVERSITY IS WEALTHY AND HEALTHY whereas UNIFORMITY is NAKEDNESS AND VILAINY.

The ultimate form of smallness is to use private lives as an argument. A particular race is specialised on it. Small balls. If they were men, they will be talking about the debate and only that. But, as vermin, they need to follow your phone conversations and everything around to oppose it to you.

Carpetbagger mentality is contemptible. Unfortunately, it is a tatto. You spot carpetbaggers immediately through their propensity to bear tatoos (codified signs of affiliation) and their focus on the competitor or opponent private life which is their priority number one.

Doing so is profitable twice. First to attack them and second to suck them and make dirty money. How can you decently display such a deplorable conduct, without being a pure Evil ?

If they were men, the World should be in Peace. Unfortunately, they are not. The only way to feel like having balls is to kill people by jealousy also and a lot of envy.

A golden and smart Gaddafi was the quintessence of everything this race abhors. We belong to the same specie, but not to the same race.

Races exist as the branches of a tree. In the jungle, we see animals. But reptiles are not lions…

***

THE U.S.S. Liberty andThe power of the Israel Lobby in the United States