Le Ciel nous envoie deux cadeaux planétaires.
1. Germanwings 9525. CNN rapporte que « Lufthansa says it knew in 2009 that Germanwings co-pilot Andreas Lubitz, had suffered from « previous severe depression. »
La responsabilité de la compagnie était plus qu'établie.
2. Nigeria. L'Afrique embrasse la démocratie. Respect au président Nigérian qui félicite son adversaire au lieu de tripatouiller les suffrages. Félicitations au Président Nigérian sortant. Lire aussi notre billet précédent ici-même. VICTOIRE COLLECTIVE.  ON A TOUS A Y GAGNER. AFRICA JE T'AIME.  NIGERIA I LOVE YOU PEOPLE.
Nigerian President Goodluck Jonathan phoned rival Muhammadu Buhari to congratulate him on victory, says Buhari's party.

*Get more from CNN International – Log on to: http://edition.cnn.com for the latest news.

Le nouvel homme fort s'appelle Muhammadu Buhari – Lire son portrait chez CNN (photo). Who is Nigeria's Muhammadu Buhari? Son mot d'ordre était « la corruption ou le Nigéria : il n'y a pas de place pour les deux ».
Muhammadu Buhari is a 72-year-old retired major general from Daura, northern Nigeria
Buhari led Nigeria from 1983 to 1985, coming to power and leaving power through coups
Against a backdrop of violence in the North, he has vowed to make security a priority
 Selon CNN, Muhammadu Buhari, a dirigé le Nigéria en tant qu'homme fort du pays pendant les dictatures militaires dans ce pays entre 1966 et 1999. Arrivé au pouvoir par un coup d'Etat en 1983, mettant fin au règne très bref d'un gouvernement populaire civil. En Août 1985, il fut chassé du pouvoir à son tour, par un autre coup d'Etat.
Les 20 mois au pouvoir de Buhari sont inscrits dans la mémoire comme les mois d'une « guerre contre l'indiscipline ». Ce qui ne pouvait être possible qu'avec une dose de ce que les opposants considéreront comme un abus d'autorité, apparemment. Non respect des droits civiques dirait-on aujourd'hui et de la liberté des gays de se marier. Je plaisante pour la dernière proposition. Le gouverneur de l'Indiana (US) est sur la sellette pour une énième revendication de lois anti-discrimination des gays…
Buhari a 72 ans. L'effet Boko Haram a certainement joué en sa faveur.
 Un général des armées c'est mieux qu'un civil, en temps de guerre.
Et puis, il y a une loi non écrite dans ce pays : celle de l'alternance automatique qui exige qu'un Chrétien succède à un Musulman et vice-versa. Cette photo de CNN qui me pardonnera l'emprunt, parle d'elle-même : avantage à la Gandoura.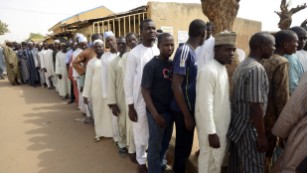 Cette année, poursuit CNN, 1,000 civils sont tombés sous les coups de Boko Haram, indique Human Rights Watch. La violence continue au Nord-est du pays a placé la sécurité à jeu égal avec la corruption et l'économie en haut de l'agenda de cette élection.
3. BONUS. Cameron a lancé la campagne pour les élections générales qui désigneront le prochain PM. Il a présenté la démission de son gouvernement à la Reine, hier. Ce qui signifie que le Parlement britannique est dissous jusqu'à l'élection du nouveau parlement issu du prochain scrutin du 7 Mai et à sa convocation le 18 Mai. Le 27 Mai inaugure officiellement le nouveau mandat du Parlement.
Coup d'envoi de la campagne électorale au Royaume-Uni.
Voici les enjeux de la campagne britannique présentés par CNN.
De retour de Buckingham Palace, le premier ministre s'est adressé aux médias – qui l'attendaient – au 10 Downing St., en ces termes : « la Grande Bretagne était au bord de la rupture lorsqu'il est entré en service. Bien sûr, nous n'avons pas  tout réglé, mais la Grande Bretagne est de nouveau en état de marche ». Il a ajouté que la Grande Bretagne doit faire face à un choix difficile dans 38 jours. Le prochain premier ministre qui traversera cette porte sera moi ou Ed Miliband du parti travailliste.
« Vous pouvez choisir une économie qui croît, qui crée des emplois, qui génère l'argent pour financer et améliorer notre système de santé le NHS (National Health Service) … et un gouvernement qui supprimera les impôts pour 30 millions de ceux qui travaillent dur… ou alors choisir l'économie du chaos de la Grande Bretagne de Ed Miliband ».
« Après cinq années d'efforts et de sacrifices, la Grande Bretagne est sur la bonne voie. Cette élection consiste à aller de l'avant et, en tant que PM ici au Number 10, c'est ce que je ferais ».
Labour: 'Clear and present danger' – Le parti travailliste parle d'un danger manifeste.
Miliband a lancé le Manifeste du Business des travaillistes ce Lundi, en indiquant qu'un second mandat des Conservateurs constituerait une menace pour l'appartenance de la Grande Bretagne à l'UE. Ce qui constitue un véritable danger pour les entreprises britanniques et pour la prospérité.
« Il y a deux visions du futur en option à cette élection », selon Miliband. « Poursuivre avec le Plan des Conservateurs sur l'idée que aussi longtemps que les plus riches et les plus puissants gagnent, tout le monde gagne ou choisir le plan des travaillistes, un meilleur plan qui dit que c'est uniquement lorsque les travailleurs gagnent que la Grande Bretagne gagne ».
Miliband a aussi fait référence à la déclaration de David Cameron du 23 Mars selon laquelle les Conservateurs ont exclu de solliciter un troisième mandat de premier magistère avant l'élection qui décidera s'ils auront éventuellement un second mandat à ce poste, ajoutant à cela cette autre idée que les Conservateurs seront en compétition sur qui se montrera le plus extrême sur l'Europe, tant ils sont hostiles à l'UE.
Coalition partner – Alors Nick Clegg ?
Allié de Cameron, en tant que vice premier ministre dans un gouvernement de coalition et à la tête des Libéraux Démocrates, Nick Clegg n'a pas la partie facile. Il affirme pourtant la différence de son parti en disant ceci :
« Pour la première fois depuis, les libéraux démocrates vont à cette campagne avec un bilan sur leur action au sein d'un  gouvernement dont ils peuvent être extrêmement fiers ». a-t-il déclaré ce lundi. « Nous avons conservé le gouvernement au centre et prouvé que nous sommes le seul parti qui peut construire une économie solide et une société plus juste ».
UK 'tea party'
Pour l'UKIP qui a chipé les voix aux Conservateurs et fait un score remarquable aux Européennes, c'est une première fois. On attend de voir comment ils vont s'en sortir le 7 Mai, car certains des électeurs de ce tea party à la britannique ont surtout fait un vote de protestation et il se peut bien qu'ils retournent à leurs bases d'origine : le Labour et les Conservateurs, lorsque les enjeux sont plus importants.
A noter que le parti veut la sortie du  Royaume de l'UE.
Lundi UKIP leader Nigel Farage tweeted: « UKIP is the party of real change for real people. If you #VoteUKIP on May 7th, you'll get MPs willing to hold the government to account. »
L'UKIP est le parti du vrai changement pour le vrai peuple. Si vous votez pour UKIP le 7 Mai, vous aurez des parlementaires prêts à demander au gouvernement de rendre des comptes. Tweet de Nigel Farage.
LE PARTI NATIONALISTE ECOSSAIS L'OUTSIDER QUI POURRAIT TROUBLER LA FETE.
On se souvient du référendum sur l'indépendance de l'Ecosse. Cette élection pourrait aussi avoir comme un parfum de revanche avec une inconnue :Pour qui penchera la balance ?
Les Britanniques ont jusqu'au 20 Avril pour s'enregistrer au vote.