The victory of Mr Trump is turning little frenchy presidential candidates and their fake news mad. Their entire and unique focus is Elise. I'm Elise. They are still stunned on the way WE THE PEOPLE BEHIND DONALD TRUMP, an original, not a photocopy or a clone, have been able to knock them down, honestly with a lot of class, self-control, efficiency, faith and identity.
We don't hide. We never quitted to accomodate their endless and helpless cheatings or ineptitude. We never bowed down to their lowlessness. We never compromised with their lips of nullity. We never plot. We kept walking on the water, in plain light.
We blew as the wind and whistled like the Amtrak. We were irresistible. Right.
This is turning lots of Democratic friends in France rogue.
I'm the target. MLP clip has taken the cliffs as the landscape looking an evasive horizon, in reference to my supposedly incapacity to land in America. Gssh ! Poor little heir, nothing without the father's party. I worth more than a frenchy petty presidential candidate. They need me to get some inspiration.
It tells you how Great and Strong  Mr. Trump is and how proud I can feel having stood and still standing besides him. Democrats and french elites are jealous people, mean and their pleasure – having less with their small balls and flat asses looking for black men to enter the skeleton's holes- they are happy when you suffer or miss something, they are happy when you are divided, they are happy when you are poor…. Those are desperation spreaders. Desperation is the illness in France. France is sick of its wicked and mediocre elites.
Poor France looking for a remedy and a providential man.
IF YOU ARE A WINNER DON'T LIVE OR COME IN FRANCE. IT IS A LAND OF LOOSERS AND LITTLE MINDED PEOPLE.
THE POST-DE GAULLE ERA IS ENDING INTO DARKNESS. FRANCE USED TO BE THE NATION OF LIGHTS. ITS CREED WAS UNIVERSALTY. NOW THE LITTLE LE PEN IS REPLACING IT BY THE RETURNING BACK TO THE FRANC CURRENCY. YES AFRICA HAS BEEN THE BACKEND OF THIS MONEY.
France is a pale copy of what this Great Napoleoni state used to be. Are U surprised ? The leadership is dog's headed.
Haydn 's Masterpiece-Emporor's Hymn,from String Quartet in C. Listen.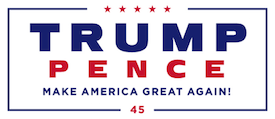 Scène,
On November 8th, the American People voted for historic change and serious action.
By delivering the House, the Senate, and the White House, the American people gave Washington clear instructions: It's time to get busy, get to work, and to get the job done.
President Trump is keeping his promises and continues to Make America Great Again!
Read about the President's week below.
THIS WEEK
The Movement Continues In Kentucky
President Trump held a rally in Louisville, KY on Monday. He made it clear that standing together as Americans, we are going to deliver amazing things for the citizens of Kentucky and the United States. We are going to take power back from the political class in Washington, and return that power to the American people. It's happening, and it all started on November 8th.
No One Knows America Like Truckers
No one knows America like truckers know America. All across America every day, they see every hill, valley, and pothole in our roads that have to be redone in every town and forest from border to border and ocean to ocean.
America depends on truck drivers. They work very hard for every citizen of our country. That's why President Trump held a meeting with truckers this week to address the many issues facing their industry.
Bipartisan Support For Supreme Court Nominee Judge Grosuch
Judge Neil Gorsuch began confirmation hearings at the United States Senate this week. President Trump has nominated the most qualified, principled, and strongest defender of the Constitution possible as his choice for Supreme Court Justice. It comes as no surprise that Judge Gorsuch is being lauded as a brilliant judge who rules based on the Constitution rather than his own opinions. You can support Judge Gorsuch by clicking here and signing the petition.
Paying Back Our Veterans
President Trump held a listening session with Veteran Affairs Secretary David Shulkin and veterans. As Commander-in-Chief, President Trump will not accept sub-standard service for our great Veterans. Every member of our government must do their utmost to ensure our Veterans have the care that they earned. That's the way they're going to be treated.
Imagining A Better Future In Space
For almost six decades, NASA's work has inspired millions of Americans to imagine distant worlds and a better future right here on Earth. President Trump signed Senate Bill 442 to reaffirm our Nation's commitment to NASA's core mission: human space exploration, space science, and technology. With this legislation, we support NASA's scientists, engineers, astronauts and their pursuit of discovery.
We are one people. Whether we are black, brown or white, we all salute the same great American flag.
As long we remember these truths, we will not fail. No one can beat us. We are Americans, and the future belongs to us.
This is your moment. This is your time. And this, the United States of America, is your country again.
We're in this together and we can't thank you enough for your continued support.
Team Trump-Pence
P.S. ACT NOW: Pre-order our new Limited Edition Make America Great Hats by clicking here.
***
Haydn 's Masterpiece-Emporor's Hymn,from String Quartet in C. Listen.
Somebody told U « run for something ». Politics is not the end of the World, neither the Center. The scene is large and running for something should be your last concern. Trump is the living proof you can make it differently and get there, whenever, wherever with real credentials not those fake corrupt political platforms delivering babies looking like Senator Mc Cain, the killing machine.
♥
MONDAY, THE 27TH. ANOTHER DAY IN PARADISE.
ECHOS OF FRENCH PRESIDENTIAL NASTY CAMPAIGN – BEATING THE DRUMS OF DEATH.
Yesterday, at the Argenteuil Basilica(France), during a pilgrimage to venerate the Holy Tunic – a relic of Jesus Christ, kept inside the basilica.

Our next flash of the World edition will be devoted to portraying the french presidential candidates. Just FOR YOU, to avoid being either manipuplated or misguided, hailing crooked alliances, including the slavery Rwandese/Israeli total nonsense collaboration and cooperation. In fact, a real impossibility, as long as Israel state stands for slavery and nothing else, but guardianship of little nations like Rwanda. We have thought Kagame was something different from the Kenyan president.
Apparently, we were dreamers and naïve. Somebody told be, a vendor in the market. He sells fashioned and very expensive hats… he told me, as we were having a discussion over globalisation, the jewish banking power origin and methods, and presidential election in France… he told me jewish bankers greed and politicians asking for sex or hiring members of their family in public offices is a conduct labelled : humane.
As we elaborated on the discussion, concerning African and France collaboration, centered around crooked businesses jewish-led exclusively, inside Africa : the case of Bolloré, the case of Bouygues, the case for many others exclusivities, he told me, Africans are unable to think globalism. It is a born ineptitude, a handicap, a lack of education and vision. Apparently, this is  irreversible.
Watching Kagame, standing like a post-slaver, wearing costumes replacing past centuries rags, standing to hail a paradoxical collaboration, strange and hawkish with the world predator killing engine, is beyond treason and anything imaginable. It is higly toxic. It is a criminal pact. It is a pact with the devil.
I remember president Kagame violent charge against France Turquoise Operation, set to exfiltrate Hutus' leaders from Kagame's revenge. Oh my God, my people is dying because of ignorance.
1984, Ignorance is Strenght. (Irony).

Freedom is Slavery.

Peace is War.
America is France, when it comes to Israeli dominium. Those lands are under Israeli devilish methods, malpractices, wars, genocides and occupation. The only difference with Palestian occupation is France and America are such big nations that it will be a profund despair to say openly : Yes, the establishment have sold us out to Israeli Mossad methods. The souls and the spirits are contaminated and evil innoculated.
The role of the fake news – so called medias – is precisely to cover up the machination, the occupation, and the deep state.
France is no longer France. America is no longer America.
If France were that land of Nobility either in sword and in spirit, then the far right parti should not be given that importance. But, its runner is under gay obediency and sphere of influence. Corrupt and lying down.
Fuck me please. Please fuck me. I want to be a president of an Israeli-led State, the first state about to establish the First Gay Presidency in the Western rotten civilisation.
Gay or Lesbian. America avoided the sin, at the very last minute. Thanks God, we were offered another choice. The political establishment is the matrix.
We still have big days ahead : draining the swamp.
The ultimate challenge: Disconnection with the Mossad ideology and nuclear illpractices to reconnect with the fathers founders Constitutional rights and their quest to set all of us FREE.
***
French far right runner is :
First, a marketing product.
Second, an unreliable person.
Third. The runner is fundamentally dishonest.
Dishonesty, unreliability, and marketing is the perfect design for an Israeli-backed body.

And, even more so, super predation and endless carrierism.
We are told that, after 40 years of political careerism in France, Segolene Royal, the Hidden Hollande's wife is candidating for the PNUD – UNDP, another Hillary's endless bloodthirstier like. No penis around there can please the woman. It is a real despair.
Stop those political worms and endless vampirism.
Put an end to this nightmare.
Ask those has been politicians to create something with the stolen public money, earned behind incompetency, ask them to do something apart from grabbing public money.
Segolene Royal was nominated the president of the public french bank – BPI – for a short period of time, the time necessary to keep the people's eyes away from Hollande's nepotism, for time after, his hidden wife will join with him inside Hollandes administration. Those are people lecturing Fillon about hiring his British wife, Penelope Fillon.
Those are branded methods, to hide their own global terrorism and occupation. Israel using America and the Europe, in fact the NATO as stooges, has been pointing his cheating hand to the other side: namely Islamic terrorism. What a big lie !
In fact, the real Israeli expertise lies into two factors : the clonage and the mutations. May I say the permutations. That is the only difference with the Nazis. It is a difference of methods or in degree, not one by nature. Sionism or neoconservatism or Mossadism or Israelism are Nazism.
CLONAGE – MUTATIONS AND PERMUTATIONS : THE ESSENCE OF THE MATRIX. REMEMBER : THE ESTABLISHMENT IS THE MATRIX.

For instance, the so-called press is diverse as clones. In reality, there is no diversity or plurality in opinion and in tune. Example : during the last presidential campaign, all of the so-called press supported the same single and inevitable candidate. Natürlich.
Previously, billionaires, most of them branded and colored, voiced their unshakable support to the same single and inevitable candidate, for more than 40 years now. But, only African are dictators, and endless political occupiers. Right ?
WE MUST CAP THE NUMBER OF MANDATES. 20 YEARS SHOULD BE CONSIDERED THE MAXIMUM INCLUDING MEMBERS OF PARLIAMENT.
20 YEARS ARE ENOUGH TO BRING ABOUT CHANGE. AFTER THAT, THERE IS A NEED FOR NEW BLOOD TO REENERGIZE THE SOCIETY. WE ARE GETTING BORED WITH THOSE ENDLESS POLITICIANS CARREERISTS TAKING BIG MONEY FROM THE SOCIETY WITHOUT GIVING IT BACK PROPERLY : SETTING BUSINESSES.
Tech industries and the fake news and polling stations (clones inside and mutations outside) could then permute their desinformation and propaganda, from walls to walls, intimidating and terrorising the people and non-abiding leaders.
On top of the Israeli-led pyramid, you have the CIA, the FBI and the NSA using drones  and satellites surveillance to wiretappe opponents or independant people : Mr. Trump or Mr. Fillon and many activists and game-changers worldwide.
I'm a game changer.
If I were to enlist the numbers of water closet press and fake news, including advertisers writing and whose posts are displayed by Yahoo – my blood is of high value, worms need to be fed with, so are rats alike – it will take at least half of the Yahoo's french and us wall of rats.
Yahoo's french and US are the perfect example of permutations and suckers. Suckers never give back. They steal and rob. It is a culture, a second skin, a DNA. A curse. Kleptomania.
ISRAEL'S AGENDA IS: THE WORLD OCCUPATION OR DESTRUCTION. CHAOS IS THE PASSAGE OBLIGE TO FULFILL THIS AWFUL AGENDA.

THE ISRAELI AGENDA IS THE WORLD POSSESSION AND CONVERSION TO HOMOSEXUALITY.
GREED WILL DIG THE SOIL BENEATHTHEIR FEET. THE ISRAELI PROJECT WILL GO ON MURDERING PEOPLE AND NATIONS, ENSLAVING EVERYTHING, DISTORTING HUMANE VALUES AND EVEN ATTEMPTING TO REVERSE THE COURSE OF CIVILISATION.
THE ISREALI PROJECT EXCELLENCY IS CREATING MONSTERS.
REMEMBER THIS : FRANKENSTEIN HAS FAILED AND WAS KILLED IN THE END BY HIS OWN CREATURE(S). SO WILL ISRAEL END.
…BE CAREFUL WITH YOUR FRIENDS. ALWAYS.
The Holy Tunic Altar (Argenteuil) – The pilgrimage was a UNEC initiative. Unec is « Union of European christian Nations »
.
Detail of the Altar.

 
 …Click to enlarge to see the Majesty and the Magnificience of the Holy Spirit.
Father Louis Marie welcomed the pilgrims. Here he is discussing with the SG of UNEC, Winfried Wurmeiling, at the end of the procession comprising 14 stations. The stations of the Cross.
***
TUESDAY, THE 28.
The fake news had no choice
Our achievement proved that the American people are fully behind our agenda.
Elise,
We outraised the Democrats last month — and the media had no choice but to report on our tremendous success.
Best of all, it was thanks to the hardworking patriots like YOU — not the big special interests.
Our achievement proved that the American people are fully behind our agenda. No matter what fake approval polls the media put out, you and I know the truth.
But we're now getting ready to file our FIRST end-of-quarter fundraising report. It's time to end it STRONG.
Please make a contribution of $100, $65, $50, or even just $35 — any amount will help — before our FIRST end-of-quarter deadline.
Note: If you've saved your payment information, your donation will go through immediately.
Our numbers prove that our movement is stronger than EVER BEFORE.
But the fake news are desperately looking for any excuse to say that our movement is weakening.
We need to prove them wrong once again.
Please step up for our FIRST end-of-quarter deadline with a contribution of $100.
Thank you,
Donald J. Trump
President of the United States
When you have Christ by your side, who can win against YOU ?
NOBODY. Applause.