Elise,
On Sunday, May 14, we will be celebrating Melania's FIRST Mother's Day in the White House.
I'd like to not only make this a day she'll never forget, but show her how thankful we are for her hard work, her dedication, and unwavering support.
And Elise, what better way than by having millions of Americans sign the Official Mother's Day Card to a wonderful First Lady and an even MORE wonderful mother.
Sign the Official Mother's Day Card to Melania before MIDNIGHT on May 14, 2017.
Mother's Day is about appreciating all those who have worked to put food on the table for their children.
Who have made every sacrifice to better the lives of their children…
To whom we owe the utmost gratitude.
Please, join me in making the First Lady's FIRST Mother's Day in the White House one she'll never forget.
Sign the Official Mother's Day Card to Melania before the deadline, MIDNIGHT, May 14, 2017.
Thank you,

Donald J. Trump
President of the United States
HOUSTON FIRE YOUR PRESIDENT ! HE IS NOT A MAN OF KNOWLEDGE – HE IS DOING POOR AND BAD POLITICS. BE THE FIRST TO STOP THE HAEMORRAHAGE UNLESS YOU WANT TO STAY UNEDUCATED OPEN-MINDED PEOPLE LAGGING BEHIND HISTORY-IN-THE MAKING AND THE WORLD RELAUNCHING.
This is it : set a precedent for the next lax presidents of Universities. This is not the first time demonstrators are taking the whole university into captivity. This is amazing.
Set : freedom is not anarchy where everybody can build their own rules to hold freedom of speech in hostage.
Liberation is not occupation.
Open borders are  not for the Minority of voters to decide, after a vote. The Majority means something in a Democracy.
Nobody is above the law, civilisation and the norm.
IGNORANCE IS NOT STRENGHT.
EDUCATION IS NOT A SCHOOL OF  PROSTITUTION OR VIOLENCE OR GLOBAL CHEATINGS.
***
Week 16: Strong Leadership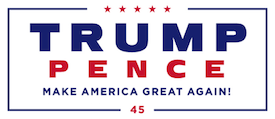 Elise,
The great American General, George Patton said, « the highest obligation and privilege of citizenship is that of bearing arms for one's country." This week, we honored the brave men and women during an event for Military Appreciation Month. We say thank you and salute their service.
But our service members know that they have more than just our thanks. Under President Donald Trump, America's armed forces have a leader – a tireless defender of our American military and our veterans. The President is fighting every single day to keep America safe and keep our promises to those who have served the uniform of the United States.
The President has said that our veterans deserve the finest care America can provide. Just over a week ago, President Trump signed an executive order to ensure that the Department of Veterans Affairs is as efficient, effective, and accountable as any great healthcare provider in America. And last month, President Trump signed into law the Veterans Choice Act to give our heroes the choices they deserve for world-class healthcare.
Scroll down to read more about the President's week.
A New Online Experience
We wanted you to be one of the first people to know that we've launched a new website that delivers current and compelling information for all Americans about the President's policies. You can click here to visit the new website now. The new website will provide a one-stop online destination to learn the facts about President Trump's actions that are enabling new economic growth and changing the American political landscape. New official campaign merchandise is also available here.
Jobs, Jobs, Jobs
The US economy added 211,000 jobs in April, and, since The President took the oath of office, he has created 522,000 new jobs. A steady and sustained increase in job creation equals new paychecks for American workers and income for American families. President Trump is committed to policies that lead to continued job growth, workforce development, and increased opportunities.
Investing $2 Billion In the United States
Australian billionaire and manufacturing CEO Anthony Pratt confirmed that he is investing $2 billion in the United States because he has "enormous confidence" in President Trump. « We have enormous confidence in President Trump. He's doing a wonderful job, and we think he will continue to do a great job, » Pratt said. « And that's why we are doubling down on our investment in the United States, creating 7,000 high-paying manufacturing jobs, mainly in the Midwest, » Pratt added.
Welcoming Honor Flight Veterans
This week, Vice President Pence marked National Military Appreciation Month by welcoming Honor Flight veterans, who fought on the front lines of freedom in WWII, Korea, and Vietnam, to the White House. With America's armed forces on the frontlines, the United States stood as a beacon for freedom. Our nation marshaled every ounce of our strength to save freedom across the Atlantic, Pacific, and the world. The sons and daughters of America, and, indeed, all who call themselves free will remember their service for eternity, until the world stops turning.
Thanks to President Trump's strong leadership, national defense is now coming first. And, we were able to increase defense spending with the largest investment in years without requiring an additional increase in domestic spending, putting an additional burden on taxpayers. That's real progress for taxpayers and our military.
President Trump will not rest and will not relent until we give our soldiers, sailors, airmen, Marines, and Coast Guard the resources they need to accomplish their mission, defend our nation, and come home safely.
We are going to see to it that we keep promises made to our veterans. We are never going to hesitate to honor those who have served our great country.
Thank you for your continued support
Team Trump-Pence
CONTRIBUTE 10$