From CNN. A Missouri grand jury did not reach a decision Friday on whether or not to indict white Ferguson police Officer Darren Wilson in the August 9 shooting death of unarmed black teenager Michael Brown, federal and local law enforcement officials told CNN. It was unclear when the grand jury would reconvene.
The sources spoke with CNN's Justice Reporter Evan Perez, Justice Correspondent Pamela Brown and Producer Shimon Prokupecz.
NO COMMENT. BROKEN JUSTICE SYSTEM.
———————————————–
Following yesterday's celebration of Obama's immigration steps, I kept the best for the conclusion.
Previously, I sent my warm feelings to Citizens arond the World who refuses to die.
MANY THANKS AND APPLAUSES TO THE PEOPLES OF THE WORLD WHO SENSED THIS AS THE RIGHT THINK TO DO AND WELCOMED IT AS SUCH : I EXPRESS MY INFINITE GRATITUDE TO THE SCOTTISH PEOPLE – TO CRIMEA AND TO EASTERN UKRAINIANS – TO RUSSIANS AS WELL SUPPORTING THEIR BROTHERS IN DANGER – TO AFRICAN PEOPLE ESPECIALLY FROM BURKINA FASO – TO HONG-KONG YOUTH FIGHTING FOR THEIR FUTURE -TO GAZA AND PALESTINIAN PEOPLE AND NOT TO MENTION AMERICANS AND EVERYWHERE THIS LABEL COULD BE A MOTIVATION FOR ACTION AND FOR MEN AND WOMEN TO STAND UP THEIR GROUND OR TO ADVOCATE THEIR CAUSE TOWARDS THEIR LEADERS.
WE ARE NOT A BREAKING APART AGENT – INSTEAD A CONNECTOR. 
YOU UNDERSTOOD THIS CITIZENSHIP PROJECT WAS YOURS. THANK YOU FOR CONNECTING OUR SOULS TOGETHER TO MOVE FORWARD FOR THE BETTER. PEOPLE OF CATALONIA WE HEARD YOU BUT YOUR SITUATION IS NOT THAT CATASTROPHIC AND CAN FIND A SOLUTION INSIDE A UNITED SPAIN. THAT IS WHAT YOUR PM IS DOING RIGHT NOW. THE SAME PM CAMEROON DID WITH SCOTLAND.
This was yesterday.
TODAY
This list is now aggregated with the latest round in Ukraine.
Read this at Eurasia selection : UKRAINE: POROSHENKO HECKLED, BIDEN ESCAPES ANGRY PROTESTERS IN KIEV : US Vice President Joe Biden backed out from appearing with Ukrainian President Petro Poroshenko at a memorial ceremony in Kiev on Friday, when the US Secret Service determined it "wasn't a good idea" after a crowd became "unruly," a pool report said. Click to read.
I'm glad to hear that, as we kept on asking that President to talk with his people so as to break up some misunderstandings. His rebuttal has led to more than 3,000 Ukrainians killed under intense shellings of Kiev's army and to unspeakable destructions. The distance got wider and wider and now, it looks like end of the road. Impasse.
But, here is the best part of my promise.
First of all, yesterday, I omitted voluntarily to thank UK lawmakers in their role during the imminent War in Syria. Clearly, a yes vote from Westminster would have sealed the fate of Syria. It was a great moment of responsibility and the entire World is grateful. With all my respect, I show allegiance here.
Second, former Burkinabe President, Blaise Compaoré has made his mea culpa over his underevaluation of the people's anger related to the change of Constitution. He is willing to do everything he can to help the transition to succeed in his country. Isn't it a miracle ? At last we are there : it has never been about hating him or dismissing him or showing signs of contempt. Not at all. It was something else he is finally getting.
Third, we are recalling the jugement of Oscar Pistorius and how cooperative and comprehensive South African people coped and accepted the verdict. To reach there, we needed time to explain through public debate and to bring adhesion. We have already expressed our gratitude to the Juge, a black woman.
Those three examples were not mentioned yesterday. It wasn't an omission but I had to separate them from the « People people ».
AND TO THE ENTIRE AFRICA I SUPPOSED THEY ARE COMFORTABLE WITH THE OUTPOURING OF MONEY SINCE I'M ADVOCATING FOR THEM HERE FIERCELY AGAINST WINDS AND TIDES.
MY LEGACY TO THEM IS ALL ENCAPSULATED INSIDE THIS BOOK
Le défi Institutionnel Les 7 clés du développement en Afrique: Reprendre possession de soi. [Format Kindle]
———————————–
TO THE PEOPLE OF UKRAINE ESPECIALLY TO THOSE OF MAIDAN HERE ARE THE ANSWERS AT YOUR QUESTIONS
Ukraine: Secretive Neo-Nazi Military Organization Involved in Euromaidan Sniper Shootings
Global Research, November 22, 2014
This article –which recounts the events of the November Euromaidan 2013 Sniper Shootings was first published in March 2014
The events in Ukraine since November 2013 are so astonishing as almost to defy belief.An legitimately-elected (said by all international monitors) Ukrainian President, Viktor Yanukovich, has been driven from office, forced to flee as a war criminal after more than three months of violent protest and terrorist killings by so-called opposition.
His crime according to protest leaders was that he rejected an EU offer of a vaguely-defined associate EU membership that offered little to Ukraine in favor of a concrete deal with Russia that gave immediate 15 billion euros debt relief and a huge reduction in Russian gas import prices. Washington at that point went into high gear and the result today is catastrophe.
A secretive neo-nazi military organization reported linked to NATO played a decisive role in targeted sniper attacks and violence that led to the collapse of the elected government.
But the West is not finished with destroying Ukraine. Now comes the IMF with severe conditionalities as prerequisite to any Western financial help.
After the famous leaked phone call of US Assistant Secretary of State Victoria Nuland (photo, left) with the US Ambassador in Kiev, where she discussed the details of who she wanted in a new coalition government in Kiev, and where she rejected the EU solutions with her Fuck the EU comment,[1]the EU went it alone. Germanys Foreign Minister, Frank-Walter Steinmeier proposed that he and his French counterpart, Laurent Fabius, fly to Kiev and try to reach a resolution of the violence before escalation. Polish Foreign Minister, Radoslaw Sikorski was asked to join. The talks in Kiev included the EU delegation, Yanukovich, the three opposition leaders and a Russian representative. The USA was not invited.[2]
The EU intervention without Washington was extraordinary and reveals the deeping division between the two in recent months. In effect it was the EU saying to the US State Department, F*** the US, we will end this ourselves.
After hard talks, all major parties including the majority of protesters, agreed to new presidential elections in December, return to the 2004 Constitution and release of Julia Tymoshenko from prison. The compromise appeared to end the months long chaos and give a way out for all major players.
The diplomatic compromise lasted less than twelve hours. Then all hell broke loose.
Snipers began shooting into the crowd on February 22 in Maidan or Independence Square. Panic ensued and riot police retreated in panic according to eyewitnesses. The opposition leader Vitali Klitschko withdrew from the deal, no reason given. Yanukovich fled Kiev.[3]
The question unanswered until now is who deployed the snipers? According to veteran US intelligence sources, the snipers came from an ultra-right-wing military organization known as Ukrainian National Assembly Ukrainian Peoples Self-Defense (UNA-UNSO).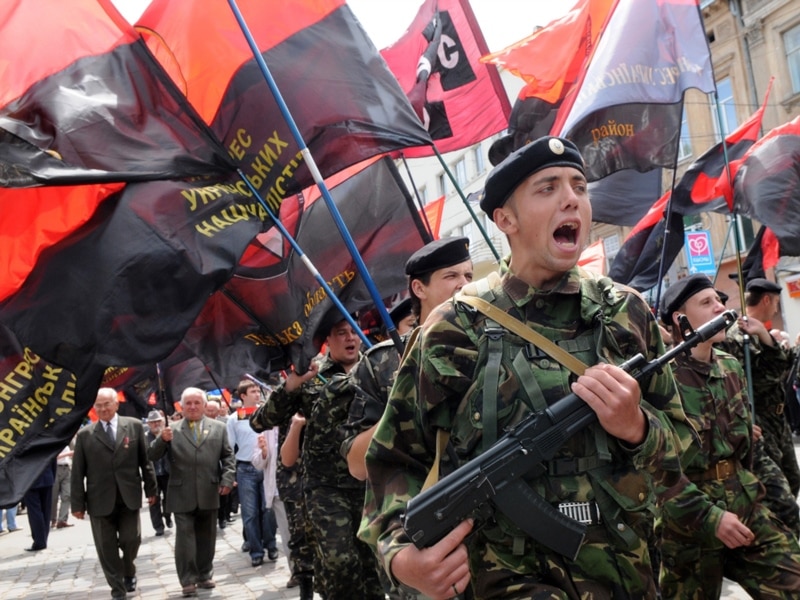 IMAGE: Members of UNA-UNSO marching in Lviv.
Strange Ukraine Nationalists
The leader of UNA-UNSO, Andriy Shkil, ten years ago became an adviser to Julia Tymoshenko. UNA-UNSO, during the US-instigated 2003-2004 Orange Revolution, backed pro-NATO candidate Viktor Yushchenko against his pro-Russian opponent, Yanukovich. UNA-UNSO members provided security for the supporters of Yushchenko and Julia Tymoshenko on Independence Square in Kiev in 2003-4.[4]
UNA-UNSO is also reported to have close ties to the German National Democratic Party (NDP). [5]
Ever since the dissolution of the Soviet Union in 1991 the crack-para-military UNA-UNSO members have been behind every revolt against Russian influence. The one connecting thread in their violent campaigns is always anti-Russia. The organization, according to veteran US intelligence sources, is part of a secret NATO GLADIOorganization, and not a Ukraine nationalist group as portrayed in western media. [6]
According to these sources, UNA-UNSO have been involved (confirmed officially) in the Lithuanian events in the Winter of 1991, the Soviet Coup detat in Summer 1991, the war for the Pridnister Republic 1992, the anti-Moscow Abkhazia War 1993, the Chechen War, the US-organized Kosovo Campaign Against the Serbs, and the August 8 2008 war in Georgia. According to these reports, UNA-UNSO para-military have been involved in every NATO dirty war in the post-cold war period, always fighting on behalf of NATO. These people are the dangerous mercenaries used all over the world to fight NATOs dirty war, and to frame Russia because this group pretends to be Russian special forces. THESE ARE THE BAD GUYS, forget about the window dressing nationalists, these are the men behind the sniper rifles, these sources insist. [7]