The deranged animal who terrorized New York City came into our country through the "Diversity Visa Lottery" — a politically correct government program that selects new immigrants at random with no other purpose than to fill quotas.
We can no longer sacrifice our sanity and our security at the altar of political correctness.
President Trump is demanding that Congress immediately end the "Diversity Visa Lottery" in favor of a MERIT-BASED immigration system where the interests of America are put FIRST.
Now he needs you to join the call to end this backwards program.
Elise, the fake news media is going to unleash a flurry of attacks against this petition. Which is why the President truly needs your support.
You and the President know this petition is common sense. We, as a country, have an absolute right to determine who can and cannot cross our borders — and NO ONE can strip us of that right.
Coming to America as a legal immigrant is the greatest privilege in the world, and American citizenship cannot and will not be granted by some politically correct lottery.
It's time for change.
Please add your name to our Petition W.H. 4540 calling for Congress to immediately end the Diversity Visa Lottery.
Thank you,
Team TRUMP
…
Sign our President's election anniversary card:
Scène — The anniversary of our victory over the liberal establishment is drawing near.
In 6 days, our President and majority will celebrate the one year anniversary of the historic 2016 election. . . and we want you to sign the anniversary card!
Will you sign the card?
Add your name and a note to commemorate our huge victory in 2016.
Sign the card:
Thanks,
Chris
NRCC
***
This just shook the political world
The Hill: "Before the Obama administration approved a controversial deal in 2010 giving Moscow control of a large swath of American uranium, the FBI had gathered substantial evidence that Russian nuclear industry officials were engaged in bribery, kickbacks, extortion and money laundering designed to grow Vladimir Putin's atomic energy business inside the United States. . ."
TAKE ACTION: Demand an investigation into Hillary's role >>
Russia, Russia Russia — that's all the biased media and the Democrats could talk about for months.
Yet Now: Hillary Clinton is implicated with a scandal involving Russian nuclear officials routing millions to former President Bill Clinton's charitable foundation, and the media and Democrats seem unwilling to talk about it.
Despite this silence from the media, it seems that the information is finally starting to spread, Scène.
ACT NOW AND ORDER an investigation into Hillary Clinton!
Sign our petition and demand answers!
Sincerely,
Eric – Take A Stand
---
Elise,
I didn't run for this office so that the corrupt Washington bureaucracy could keep going about business as usual.
I ran because I'm sick and tired of an incompetent, corrupt establishment that ignores the voices of the American people – and they're not going to get away with it any longer.
I'm going to face liberals in the Senate with a list of America's DEMANDS BEFORE THE YEAR ENDS, Elise, and I want to make sure YOURS are front and center.
This presidency has never been about my personal ideas, it's about carrying hundreds of millions of American voices to the lawmakers that claim to represent them. It's about our strength as a united people.
We showed them once before and we'll show them again – we are a force that CANNOT be stopped.
Please participate in my official survey to make sure the Senate hears our final list of demands before the 2017 election year comes to a close.
Thank you,

President Donald J. Trump
---
WEEK 41: Resilience and Courage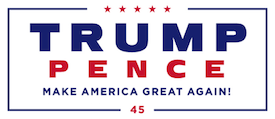 TRUMP PENCE WEEKLY NEWSLETTER
11.04.17
RESILIENCE AND COURAGE
In the wake of Tuesday's terrorist attack in New York City, our thoughts and prayers are with all of the victims and their families. Immediately after the attack, President Trump committed his full support to the New York City Police Department. The NYPD was proudly represented by the first responders who stopped the terrorist and rendered immediate aid to the victims. While we mourn the lost lives from this attack, and the details are still under review, it is a harsh reminder that we must never admit foreign nationals to the United States who pose a terrorist threat to our nation. President Trump's immigration policies put Americans first and should be fully implemented as soon as possible to help prevent similar attacks in the future and save lives.
PRESIDENT TRUMP WILL FIX IT
Democrats in Washington claim that the effort to repeal and replace Obamacare is dead, but they don't understand President Trump. While the economy is starting to improve under the President's leadership, and tax cuts are just around the corner, this President will not rest until he provides relief from skyrocketing premiums for hardworking American families. This week we released a new campaign ad to remind people that the President is fully committed to repealing and replacing Obamacare. Our new ad sends a clear message to the Democrats: end the obstruction and work with our President. That's what the American people expect and deserve. You can view our new ad by visiting the video section of our Facebook page.
STRENGTH AND PATRIOTISM
On Monday, President Trump awarded the Congressional Medal of Honor to retired Army Captain, Gary Michael Rose. From September 11 through September 14, 1970, Captain Rose repeatedly ran into enemy fire to provide critical medical aid to his partners, using his own body on one occasion to shield a wounded American from harm. "[Y]our will to endure, your love for your fellow soldier, your devotion to your country inspires us all," the President said. "Nations are formed out of the strength and patriotism that lives in the hearts of our heroes."
MINOT AIR FORCE BASEVice President Pence was honored to be with the men and women of Minot (MY-NIT) Air Force Base in North Dakota where every day, the Warbirds, the Rough Riders, and everyone from Team Minot embody the motto of the Global Strike Command: "Deter, assure, and strike." Minot Air Force Base is the bedrock of U.S national security and stability across the wider world. The Vice President thanked these brave men and women for their service, and let them know that as they take to the air and as they take a stand for freedom, that they go on the wings of grace and the grateful prayers of the American people.
 ***
You need to see this DISGUSTING lie the Left is spreading about us.
WATCH AND FIGHT BACK
Democrats are waging an all-out war against Ed Gillespie in the Virginia governor race. They know that Ed is going to stop Virginia from becoming a lawless sanctuary state being overtaken by MS-13 gang members.
Liberals are now trying to smear conservatives as a bunch of child-killing "deplorables" mowing down immigrants with pick-up trucks while saluting the Confederate flag.
We are sick and tired of being attacked for believing we need to secure our borders and uphold the rule of law.
The Left's vicious attacks against us will only strengthen us, motivate us, and unite us to fight even harder.
Please help Ed Gillespie win his governor's race by making a contribution.
Now it's time for the deplorables to FIGHT BACK by helping Ed Gillespie win this race and stop Virginia from becoming a sanctuary state.
Keep Fighting,
Trump Headquarters
 ***
The CIA has given the Long War Journal exclusive access to the supposed Osama bin Laden files taken from his "compound" in Pakistan.The Long War Journal is a project of the Foundation for Defense of Democracies (FDD) where its editors are senior fellows. The foundation is a refuge for neocons and a staunch supporters of Israel and its policies. It is also a vocal advocate of confronting Iran.So it shouldn't come as a surprise the CIA "shared" a carefully selected portion of the documents — some 500,000 files — with the Long War Journal.
The released documents focus on Iran and its supposed relationship with al-Qaeda.
"One might reasonably wonder, then: why do Americans hate and fear Iran, over and above even the nation — the royal family and their clerics — that were actually behind 9/11? Might it be, perhaps, because the Shia clerics of Iran are as fundamentalist as the Sunni ones in Saudi Arabia? Not at all; but, yet, Americans seem to assume that that's the case," writes Eric Zuesse.I disagree with Zuesse on his belief that Saudi Arabia was the prime motivator behind the 9/11 attacks. It certainly participated, but the blame falls squarely on the United States and its intelligence agencies. If not for the CIA and Saudi partnership, there would be no al-Qaeda, no al-Nusra, no Islamic State, and other Wahhabi terrorist organizations.
…
HELLO TEXAS. HELLO SAN ANTONIO. GOD BLESS. CHURCHES ARE SO VULNERABLE.
Is America turning into a Nation of Terror ?
 …
NEW YORK VOTES TODAY. 7/11
Today is the day democracy comes alive in New York City — Election Day. The day that you get a chance to decide the future direction of the city we love.
I am asking for your vote to serve as your Mayor for the next four years.
If you believe that we must create and preserve affordable housing for 750,000 New Yorkers so this is a city that everyone can afford to live in, then I am asking for your vote.
If you believe we can continue to drive down crime from our current record lows and that we're going to do it by bringing police together with the communities they serve, then I am asking for your vote.
If you believe Pre-K for All has made our families lives better, but want to go further by providing a free, quality education to every three-year-old in this city, then I am asking for your vote.
And if you believe, like I do, that in the largest and most diverse city in America, we must continue to stand up to Donald Trump, then I am asking for your vote.
Together we've taken great steps toward making New York City a better and fairer place for everyone, no matter how much money they make or where they live. Today, you have a chance to cast your ballot and say you want to continue that work for four more years.
I am asking for your vote.
Thank you for taking ownership of this campaign, and for voting today. Please forward this email to several of your friends, family, and co-workers so they know about our goals for the next four years and to make sure they know where to cast their votes as well.
In solidarity,
Bill de Blasio