The post-Fed moment is arising. If…
« Increasing number of Americans are seeking alternatives to the Federal Reserve System, such as precious metals and cyber currency ».
Warfare-welfare state… Trump's Fed Picks? More of the Same!
« Arizona recently passed legislation recognizing gold, silver, and other precious metals as legal tender. Wyoming will consider similar legislation next year. If Congress refuses to act to restore a free market in money by auditing and ending the Fed, more states are likely to pass these laws as more Americans reject fiat currency in favor of real money ».
thrivemovement.com
FIAT MONEY WORKS LIKE A CASINO.  IT IS MUCH MORE ABOUT GAMBLING THAN GOVERNING. DEBATE TO SET YOURSELF FREE.

Fiat money is a currency without intrinsic value established as money by government regulation or law.[1] The term derives from the Latin fiat (« let it be done »)[2] used in the sense of an order or decree.[1] It was introduced as an alternative to commodity money and representative money. Commodity money is created from a good, often a precious metal such as gold or silver, which has uses other than as a medium of exchange (such a good is called a commodity). Representative money is similar to fiat money, but it represents a claim on a commodity (which can be redeemed to a greater or lesser extent).[1][3][note 1]

The first use of fiat money was recorded in China around 1000 AD. Since then, it has been used by various countries, usually concurrently with commodity currencies. Fiat money started to dominate in the 20th century. Since the decoupling of the US dollar to gold by Richard Nixon in 1971, a system of national fiat currencies has been used globally, with freely floating exchange rates between the national currencies.
AND…
Conservatives being silenced
Scène,
We'll just get right to the point:
With the help of George Soros, Nancy Pelosi and the radical left are looking to silence conservatives.
We need YOUR help to stop them, Scène.
You see it in the nightly news, the late night talk shows, and across college campuses everywhere. The radical left is determined to snuff out any dissenting opinion.
Not this time, Scène! We are fighting back. We are going to TRIPLE-MATCH any conservative who takes a stand today.
Grassroots conservatives were key in taking down the liberal elite last election. The grassroots will again be key to protecting our united Republican government. We must come together and protect our movement for our president and for our future.
Right now — Conservatives are getting ASSAULTED by dirty, nasty attacks from the media, liberal elite, and Democratic candidates that George Soros and the liberal elite help fund.
Will you step up and protect our movement?
48-HOUR DEADLINE: ALL GIFTS ARE 3X AS MUCH
DECODING LAST VEGAS.
The gang behind Paddock spree are people against Christianity and Religion, the same people Jesus Christ threw off the Church shouting after them « my father's home is not a place for gambling ».
Casino goers are enemies of Christianity. Forcibly, they hate Country music, so powerful inspired by the Love and Grace of Christ.
The mass shooting was aimed to silence Christians, religion and soul inspired music.
Christian music are songs of Freedom and Resistance.
Naturally, the establishment feels like being seriously threatened and their rule in great jeopardy. So they had to do what they know well : killing freedom, murdering people and silencing the radio.
Radio silence, where I was posting my Flash of the World, airing Christian musics along with the post, has been silenced for a moment, by the same people behind the Paddock spree.
Paddock is not a « lone wolf ». Radio silence webmaster, Lucien Abraham, just died brutally and suddenly, on the eve of a post inside which I was calling Citizens Warriors to watch out.
This was considered a blasphemy by the Casino gamblers = the Establishment.
Could you only imagine that, in America, contry music should have become a target ? America was born around this music. Some people are willing to wipe History off and rewrite it. Statues are downed, for the same reason.
1984 – Orwell. He who control the present controls the past – and controling the past allows the rewriters to control the future.
That is it. Casinos gamblers are non-believers. They beleive in Money and Ruthless Power. They beleive in assassinations and terror. They beleive in a World Government, call it a Totalitarian power.
They are the only one to talk and govern. Unauthorised voices should be killed.
God is the Power. Beastiality can't last forever. It is doomed to disappearance. Babel tower.
All the more so, cow boys were real men with convictions, standing and viril. Today, men are women.
***
Did you know www = 666 or else. It looks like The trinity ( the Church) held up by the Antichrist, those who are up to run and only them, otherwise brace for chaos.

***
TUESDAY  THE 24. Make the GOP majority act like one
Dear Elise,
Have you heard? I'm running for the U.S. Senate and I'm asking for the support of strong conservatives like you.
The Senate is totally dysfunctional. And I've decided to do something about it. Too many Senate Republicans act like Democrats. Or worse. And that's what needs to change. Will you chip in $25 to help send me to the Senate to make the Republican majority act like one?
I'm a hard core, card carrying Tennessee conservative. I'm politically incorrect, and proud of it.
Become a founding member of the conservative revolution, DONATE $25, $50, or whatever you can afford TODAY!
The left is balking at my candidacy because they know I'm the strong ally President Trump needs in the Senate to pass a true, conservative agenda and deliver on our promises to the American people.
My campaign will be a conservative movement fueled by grassroots supporters like you. The Washington establishment is already mobilizing against me.
This first month is critical.  We need a strong show of support from conservatives like you. Will you step up and donate today? Every bit helps and no donation is too small!
Help me stand for millions of honest Americans who work hard and play by the rules. Too much is at stake. America needs a conservative revolution. Send a fighter to shake up the Senate and finally repeal Obamacare!
Thanks for your support,
Marsha  – Marsha Blackburn
———-
TRUMP PENCE WEEKLY NEWSLETTER
10.21.17
REAL TAX CUTS FOR REAL AMERICANS : The President's Middle Class Miracle.
President Trump is working harder than ever to bring tax reform to middle class Americans, including the biggest tax cut in American history. This week, the President took his case to conservative leaders, seeking their support in pushing Congress to pass a tax reform bill, he said, "We need…help…to get our tax cuts through the house, through the Senate, and to my desk for signature." Now is the time for all Republicans in Congress and maybe even patriotic Democrats to come together and support major tax reform that will boost wages and deliver families a $4,000 annual pay raise. We must get Congress on board, in order to deliver tax relief to hard-working Americans. Call and remind your Representative and Senators to support the President's Middle Class Miracle today.
Call and remind your Representative and Senators to support the President's Middle Class Miracle today.
---
Elise,
I've said it before and I will say it again: the Mainstream Media is out to bring down my Administration.
It's a 24/7 barrage of hit jobs, fake stories, and absolute hatred for everything we stand for as a movement.
It's time to once again release our Mainstream Media Accountability Survey to show them that the American people are fed up with the Fake News machine.

I need you to take the MEDIA ACCOUNTABILITY SURVEY to do your part to fight back against the fake news attacks and deceptions.
They don't care about the truth. They don't care about what's right. They only care about propping up the liberal Democrats they worship and destroying anyone who wants to put America First.
There is nothing they won't do to stop us.
This is a fight we can't afford to lose. The future of America hangs in the balance. Our country is at stake.
Please take the Mainstream Media Accountability Survey to do your part to fight back against the media's attacks and deceptions.
Thank you,

Donald J. Trump
***
THE SENATE RACE HAVE STARTED. POISON OF DEMOCRATIC DIVISION HAS INFILTRATED THE REPUBLICAN PARTY. WEAK STRATEGY FOR POOR POLITICIANS
THE CONSTITUTION VS AUTHORITARIANISM – AFTER THE MIDDLE EAST, UKRAINE AND ELSEWHERE FAILURES, AFRICA IS NEXT TO FEEL THE HEAT OF OCCUPATION AND INVASION. LYBIA WAS THE GATEWAY FOR THE SNEAKY PLAN MAY I CALL IT PLANTATION. IS THERE ANY END TO THE ROAD ? RUSSIA, IRAN,  NORTH KOREA, CHINA… THE TRUTH IS MILITARY INVASIONS AND BASES ARE EVIL. AS SUCH THEY ARE UNCONSTITUTIONNAL. WATCH THE LIBERTY REPORT TO SEE BY YOURSELF.

INVASIONS WORK AGAINST SOVEREIGNTY, AGAINST MUTUAL RESPECT AND AGAINST THE NOTION OF PROPERTY AND INDEPENDENCE. ENSLAVEMENT, AUTHORITARIANISM, CRIMINALITY, TRAFICS, DOMINATION, THOSE ARE ANYTHING BUT FREEDOM, THE FUTURE OF THE MANKIND. MAY BE…THIS STRUGGLE AGAINST FOREIGN INVASIONS AND SAVAGERY WILL NEVER END.
To be realistic, economically, western prosperity have been heavily relying on invasions to carry on big robberies of raw material and exploit low cost workers. In the meantime, the military complex have found a golden way for prosperity.
To sum it up, the western economic miracle is a big lie. Those horrors one can see everywhere a war is ongoing are not hasardous. It has always been this way. What have changed is the resistance and the open fight against the agressor. We are in the midst of the redistribution and creation of Wealth.
Wealth and Health. For so long, the western have dragged 80% of the global wealth, sitting on others nations soil leaving them – in the process – with a small 20% to go on with. How can they pay their national debts and deficits if  not by thefts and military strenght to sit on the the African Wealth. Much of the time, the untold story is those bases are not chosen at random. They serve as a cover up for hidden exploitation and mines extractions going on inside those military bases and camps, out of the people's sight and knowledge.
Guess about the level and amount of traffics of all sort : arms, gold, diamond, uranium and so on.
Perhaps, some leaders like the Malians are not even aware of the trickery, as it was the case for Bokassa in Central Africa, until he was given a watch with diamonds inside by a good guy who then revealed him 'Mr President, as we are taking uranium, we found out that the mineral was attached with diamond ». This revelation came many years of exploitation after.
So guess the traffic and the profiteers. Tax havens will tell the story on day. Really horrific.
The storytelling behind those predations advocating for World security and Terror prevention is just another big lie. In fact, invasions are the cradle and the first motivations of Terrorism around the World.
Apparently it is either a financial crash or invasions to keep the head out of the waters.
It should not be like this. You can't steal the money endlessly and hide it into tax havens or kill any fair competition using brutal monopolies to hold the economy on, and exchange it against foreign invasions to keep the budget in balance or at least functional.
Foreign interventionism is a default economy and policy. The economy should cleaned itself from within. It is not only about tax cuts, it is also about those extravagant wages some people are earning, it is about the way the economy works together to stiffle the energy, creativity and diversity, it is about how we encourage talents and innovation including freedom of thinking, debate and reflection… It is about how we get the oxygen inside the economic circle so that the money can flow into various channels to irrigate the entire society.
Many channels are corked. Example, the currency and the multiple manipulations going around.
Warfare-welfare state… Trump's Fed Picks? More of the Same!
…..
Pentagon Expands 'Terror War' To Africa: Where Is Congress?
***
THURSDAY, 26 – WE THE PEOPLE.
Have you seen the attacks on our Constitutional rights from the left recently?
Every other day the radical left has a new plan to trample on our Constitutional rights and take the power away from the people.
It's ironic that these same politicians swore an oath to uphold and protect the rights our Founding Fathers envisioned for us.
Washington should be filled with defenders of our founding document – interpreting the Constitution as the Founders intended!
In order to reignite liberty and bring conservative, Constitutional leadership back to our nation, we need you standing with us.
Thank you,
House Conservatives
***
Scène,
The left is out of control.
Look at this comment made by Michelle Obama:
« Physically, there's a difference in color, in the tone. Because one side: all men, all white. On the other side: some women, some people of color. »
– Michelle Obama
This is incredibly ironic and hypocritical. I didn't see Michelle Obama coming to my defense when Nancy Pelosi tried to replace me with a white, male Democrat last week.
Scène, Michelle keeps hurling insults at women and minorities across the nation. Political parties are not defined by gender or race, they are defined by ideology. I'm a wife, a mother, a Utahn, a black Republican who loves America and believes that no one is destined to be poor in this country. If you work hard and seize opportunities, you can succeed. Nancy Pelosi is scared of this conservative message.
Let's show them that Republican women can think for themselves. Will you add your name and denounce this type of rhetoric?
Sign Here: https://act.nrcc.org/radical-left/
***
THE CIVILISED JUNGLE.
ECONOMICAL NIGHTMARE. TIME WARNER SHOULD NOT MERGE WITH AT&T. THIS IS THE KIND OF HORRIFIC BUSINESS SENATOR JEFF SHOULD HAVE BEEN FIGHTING TO IMPEACH. THOSE ARE THE KIND OF ASSOCIATION THAT SHOULD BE DECLARED INCOMPATIBLE DUE TO THE ORWELLIAN STYLE BUSINESS SURROUNDING THE DEAL.
AWFUL. PURE EVIL.
INSTEAD OF FOCALISING ON THE RHETORIC, GET THINGS DONE TO APPEASE THE PEOPLE IN TOTAL DISARRAY.
WHEN THOSE GANGSTERS ARE LISTENING OUR ENTIRE CONVERSATIONS TO PARASITIZE OUR FAMILIAL LIVES AND BUSINESS, WHERE IS FREEDOM AND THE RESPECT OF CONSTITUTION ? WHERE IS JUSTICE IF DOGS ARE FREE TO HARM THE PEOPLE OPENLY AND TO VIOLATE THEM ON A REGULAR BASIS ?
THE MERGER OF TECH GROUPS IS FUNDAMENTALLY UNCONSTITUTIONAL. CONGRESSMEN CAN NOT BE THE ONES BLESSING A SATANIC WORLD. PURE HORROR.
www = 666.
LISTEN TO OUR FLASH OF THE WORLD.
La démission du Chrétien fait le lit de la Victoire du Mal dans ce Monde corrompu. Comment transformer la Foi en Actes ?
If the World is so wicked and corrupt, it is because Christians have left the scene and the stage to rats and dogs. Pigs alike. Big and fat thieves in fact. All small things and human beings wandering to harm the people, to corrupt and prostitute the entire System. This century is so poor. We the People,  and We the Christians are bearing the upper responsibility of this failure of a World given and designed by God – to Satan descendance.
This is the kind of standing and speech hurting Satan. And guess it ultimate response, after bed and body searchings inside bedrooms, kitchens and bathroms… Assassinations, harassments, torture and terror in band. Even those looking different are not sane. In the end, you'll find them closing the line of privacy violations, while claiming they are freedom  fighters. Money money money behind lying faces and tongues.
Those former dogs were wolves in reality and Hitler just sensed it and sow the clear plan and identity. In the next century, jewish as an identity, will completely disappear, under the citizenship veil. A second skin for perfect snakes. Today, it is forbidden to say Jewish. This race is doomed to vanish you think ? Don't get fooled twice. It is a tactic, cleansing oneself to conduct greater evilness under other nationalities and identities.
Oh, French are occupying Mali. In reality, this move was initiated, planned and designed by the wolves behind-the-scenes. Stooges and sentinels are planted everywhere to anihilate any transgression of or opposition to this satanic order. Eventually, the beast is following your topics day and night and surfing on it – a predatory tactic to make easy money and look like  – while sending either controversial pictures or insults throught pictures to YOU the original source.
The copy is the source and vice versa. Right ? Everybody is slave. Nobody is better than the other. We are all obliged to wear blue uniforms working for Satan. Satanic people are out there to perform a double mission :
identifying talentuous people and creative sources.
tracking them day and night using every stone at hands
stealing on them, plagiarism and parroting including mimetism to aspire their energy and creativity
In the end claim the property of what you rob previously : intellectually or else
Terrorize using your power of echoing more of the same rape from CNN, Fox, MSNBC, the New York Times, the Wall Street Journal, theWashington Post, ABC, NBC, CBS, the Daily Beast, TheHill, NPR, the LA Times,USA Today, Newsweek, AP, Reuters, the Guardian, and any corporate media outlet used to manufacture public support for a corporatist system of government.
Twitter has announced today that it will no longer be accepting advertisements from Russian outlets RT and Sputnik, thereby protecting Americans from consuming advertisements by propaganda outlets other than CNN, Fox, MSNBC, the New York Times, the Wall Street Journal, theWashington Post, ABC, NBC, CBS, the Daily Beast, The Hill, NPR, the LA Times,USA Today, Newsweek, AP, Reuters, the Guardian, and any corporate media outlet used to manufacture public support for a corporatist system of government.
Never name your source. It goes without saying. Just perform the mission and the omission consisting on  following, stealing, taking for yours and selling it as such. In the end  you wander why the Jewish Century is so poor and a real waiste for the Humanity.
Have you ever heard a snake talking ? No. But some people like Harry can decode the whistle of the snake. Usually – cowardness and littleness  forbid–  pictures are hijacked to help the little things to express shamefull feelings they can't voice openly. Liars are criminals. Dual-face people are criminals and poisonous. They stink.
You can not change some people. Don't even dream at that. They are on Earth to lie, hide, grab others belongings and properties including initiatives, and spread hate and crimes. Money is what drives them. They have no other drivers.
Gold searchers have pioneered American settlements.  It even was the reason why many people travelled from Europe and all over the World to America. Looking for Golden Rivers. The motivation have transformed the mindset of those settlers into something looking like animality inside a  jungle ruled by law and unbribable Sheriffs.
Two centuries later, Sheriffs are bribable, they are killing innocent, weak and non-jewish abiding people, robbing them from their properties – politicians are paid for by the hidden gang, lawmakers are stooges, American money and banking system is a Jewish property, America is under Jewish Influence and Guardianship.. Everything has slept out of control, out of civilisation, wars are everywere, democracy is no longer operative unless the gang wins the fraudulent game, tyranny is back, torture is back, slavery is back, the society is an entire jungle every one can buy a gun to kill who they like…
YOU MAY CALL IT A « CIVILISED JUNGLE ». CIVILISED SOUNDING AS A SELL-FUFULLING PROPHECY. PROPAGANDA IS EVERYWERE. THE MEDIAS ARE MASTERING THIS LATTEST.
MCCARTHYSM IS BACK STRONGER THAN EVER BEFORE. MILITIAS AND GANGSTA POLITICAL PARTIS ARE GUARDING THE GHOST TEMPLE. TRIUMPH OF PARASITISM AND VOYEURISM.
Before you write it, the beasts are reading it and exploiting it wormly. Who can tell me why Jews don't like  their identity ? It is that, if known, people will find out that they are surrounded by the Holocaust (1).
RADIO SILENCE IS STILL MORNING THEIR BELOVED WEBMASTER GONE TOO SOON.
Catalonia is the satanic baby of Evil EU policies.
Catalonian independence could have taken Scotland as a model. The referendum was made in accordance with the then PM, David Cameron. You don't initiate a vote this size without the agreement of the Spanish people or Body as a whole. The body standing for the People.
This is why this referendum was unconstitutionnal. Sovereign matters are not civil matters. It is not like a divorce. It is much more complicated and sophisticated.
The State of Law and the Republic is indivisible.
Frankly, is it the time to seceede ? Get wise you people of Catalania. It is surely not my problem, but when you have a blockade stick to the Law and the Constitution. Those are things beyond our personnal ambitions and standings.
I'm confident PM Rajoy is going to handle the situation. For the Best.
---
Despite obstruction from Senate Democrats, our Administration has accomplished more in just NINE months than most presidents do in four years.
Thanks to your constant support, we have the momentum to combat their vicious attacks, and we're working day and night to deliver on each and every promise made last November.
That means bringing illegal border crossings down to their lowest points in almost two decades, liberating the capital of ISIS, bringing back our jobs, cutting terrible regulations, appointing tons of conservative justices, and giving ICE the resources they need to enforce the LAW.
I count on top supporters like you to help us get these things done. If you're with me, are you willing to contribute $100, $50, $25, or even just $10 before our end-of-month deadline?
Note: If you've saved your payment information, your donation will go through immediately.
CONTRIBUTE OTHER AMOUNT
We can't let up now.
If you're with me, and ready to make this country a nation we can be proud of for generations, I need your support before this month's deadline:
There is still so much more to do…
We're fighting for the biggest tax cuts in history.
We're fighting for a WALL that will secure our border and keep this country safe.
We're fighting for real solutions to the problems that have crippled our country for the last 8 years.
I hope you'll continue to fight alongside me,

Donald J. Trump
President of the United States
…
Elise,
We must fight to protect and defend American values, which are at risk every day in this country.
When President Trump said that he was fighting for hardworking Americans, for small businesses, and for families — he meant it.
I have watched as President Trump and this Administration work tirelessly to cut through the noise and get the truth out to the American people about our accomplishments.
That's why I'm reaching out, Elise.
It's critical we reach our fundraising goals to set the tone for the months ahead and be prepared for these baseless attacks against everything we do.
So please, consider making an important October end-of-month contribution:
Note: If you've saved your payment information, your donation will go through immediately.
It's because of supporters like you that we're able to get the message out and demand Congress get things done.
Make an important October end-of-month contribution before the deadline.
Thank you and God bless,

Mike Pence
***
(1) – Donald Trump's presidency, like preceding ones, is trapped by the interests of the power elite that has ruled America since World War II.
American economic decline is evident and growing social conflict across economic, social and geographic lines is just a reaction to this decline.
While fulfilling the aspirations of the American people seems more difficult within the existing capitalist framework, there are also growing apprehensions coming from America's power elite as it becomes more frustrated due to its incapacity of being more effective at the world level. America's relative adolescence in world's history will become more and more apparent in the coming years.
HOW AMERICA HAS BECOME A CIVILIZED JUNGLE.
History knowledge seems to be the key explainer and factor in understanding why the Jews have set themselves on top of the Ghost Temple. While America is relatively young, former immigrants were coming from old european nations with a long history. The land may be young and new, not the knowledge of the pioneers. Apparently, the oldest of them, jews, were able to make that difference due to their ancient history. Tired of walking in the desert – see the Bible – 40 years becoming centuries, they hunt those upper seats hungrily, to avoid being treated as they used to be : easy preys.
May be, their enduring experience have been key in realising that the World is divided into two categories : the hunters and the preys. Having served as preys, they decided to become Hunters and stop begging for something. America, as an open land belonging to nobody became a dreamed opportunity and land to grab and hang onto tightly. Which in turn explains many conducts. Among them, the take-it-all-for-us-only pulse and impulse leading to bestial occupation, wild and rampant.
WILD.
The growing misalignment between government policies and people's yearnings coincides with the ascent of the military establishment within the power elite that rules America. Despite the country's aggressive expansionism, America's power elite was initially driven mainly by political and economic forces and much less by its growing military strength. It is fair to say that the military establishment, as an influential component of the American power elite, only appeared in the context of World War II. Nowadays, it is a dominant player.
ABSOLUTISM.
Under the Jewish obediency, ruled by the notion of the lion's share – the Hunter philosophy and standard – it is easy to understand why their economy is unable to attain the needs of a growing number of its population, as the Great Recession of 2008 has shown.
From wild to abusive monopolistic positions declared too-big-too-fail by some stooges, Jews have cynically exploit their central and exclusive position upon which America was founding its might worldwide and domestically.  Jews elites have reinvented political Absolutism, or Monarchy absolutism. Their rule is less of a Republic and more of a Kingdom without a parliament.
The History of Kingdoms walks with that of famines as showcased by the Great Recession of 2008.
Despite its economic and entrepreneurial might, the US distilled version of capitalism is unable to attain the needs of a growing number of its population, as the Great Recession of 2008 has shown. Within the OECD, arguably the club with the highest levels of economic and social development in the world, US rankings are abysmal, for instance concerning education and health, as it lays at the bottom in learning metrics and on critical health measures such as obesity. The wealth gap has widened and the social fabric is broken. American economic decline is evident and growing social conflict across economic, social and geographic lines is just a reaction to this decline.
DEMOCRACY IS ABOUT GOOD GOVERNANCE AND ACCOUNTABILITY. CHINA IS GOOD ON THOSE TWO POINTS WHILE ON THE WEST SIDE THE POLITICAL GAME IS A THEATER OF SHADOWS. INSTITUTIONS ARE THERE BUT THEY ARE EMPTY POTS. ACTUALLY DEMOCRACY IS A FACADE ON THE WEST SIDE. LOOK AT THE EU OR THE ESTABLISHMENT.
A far-reaching lesson, although still being ignored, is that China's economic might is showing that capitalism as understood in the West is not winning, much less in its American format. It also shows that democracy may not be that relevant, as it is not necessarily a corollary or a condition for economic development. Perhaps it even shows the superiority of China's economic model, but this is a different matter.
It is essential to recall that the civilisation didn't start with the Republics, but with Kingdoms. Not all of them were bad or weak or brainless, lacking ambitions. It may even be the contrary / Under Kings and Queens, Big Things have been done. In fact, the West, as we know it, except for the Young America, is what it is, thanks to those Kings' Builders of cities and artists sponsors.
In America, Jews have tried to duplicate their ancient Masters, the Egyptians and their Pyramids. You can see the remnants of this memory in America. Antiquity is the American model. Antics times were as barbaric as noble. Those two extremes were coexisting and strong. Slavery was the key workforce. At the times Jews were slaves.
Combine History and Anthropology to understand why Jews have surrounded America and how they are governing the city of the Hill. It dates back to Pharaonic times.
SUNDAY 29. THE JEWISH UNTOLD AND UNASSUMED CROISADE. THE NEW KNIGHT TEMPLARS.
The well oiled scenario walking to enslave the World for the benefit of the only-one-elected-people pretensions : the killers of the Son of God, has hit the wall dramatically if not comically. It looks like the red nose of the clowns inside a miserable circus tour. Jewish Masters of the World missing link inside their satanic equation was the gap between their objectives translated into a mission and their real competencies.
Not everybody is capable of ruling the people and the World. Not every group is able to create Wealth of the Nations. Not everyone can stand and decrete themselves as Kings or Queens. You need a training for that. Jewish training lies in their legendary self-elected people on Earth by the Bible, at the Pharaonic times. See the correlation now between our times and the times of immemorial ?
The trauma dates back to this Exodus moment…
And to the templars croisades walking onJerusalem.
Not surprising the French latest presidential campaign was kind of resetting the clock with an ovni non-parti named « On the March ». En Marche. To grap the Elysee Palace. Kind of a croisade.
En Marche was launched from California and all the hidden Jewish forces, acting together in the darkness joined in, from America to France to pour dark money capable to buy anybody including former presidents and other partis staff. The socialist parti just was dried up without delay. The staff jumped into the On the March train. Knowingly of the mission. It was so easy, the socialist parti has been the Troyan horse for the Jews France take over.
Hidden brothers joined the club naturally. The scenario was written in advance, in California, and the underground connections did the rest. The people watched this as a Miracle. Indeed. Miracles of Hell !
THE JEWISH PROJECT.
Lack of skills and know how has turned the Jewish project a little bit caricatural, in the meantime. The gang of medias and advertisers including the banking system have proven jailers, idiots, silly, incompetent to kickstart progress and wellfare for all. The conscience of this hole ended into establishin frauds and crimes as a way through.
Plagiarism became AND IS key. Monopolies also. Obstructions and Sabotaging entered the game as a necessity. Jews have the money and those monopolies, they have very little knowledge and low thinking. Mean people will always compensate their incapacity with terror, wildness conducts and thieves. It is their only way to survive. Their mot is Kill the competition. Kill fairness. Kill beauty or grab all these by force.
Hence the organization into a global mafia, fearing a talent may arise and grow up big with the capacity to dismiss the so-called elected people unique genius. Lol.
Remember also that when a Jew kills non jewish people, it is not considered a crime. It is normal. The Jewish PROJECT is to kill the most non-jewish people as possible and to convert the rest into Jews, meaning to change their state of minds, their habits and their reflection. This is it : either you follow like black people – including their evangelists – without a word  or be eliminated, the case of Gaddafi for instance.
History tells us that, even if the Jews project succeeds, as they have been breeding killers and idiots, so will the seeds of it remain permanent as a cancer within their perfect society or a World of unidimensionnality. Malthusianism and cannibalism is end of the road for this kind of society.
Proof ot it, not so far, the storytelling was promoting gay marriage and homosexuality triumph. Now, due to my love affairs, the Jewish killing mentality has morphed overnight. The entire collection of TV ads and streets posters is staging heterosexual families with a fairy tale about too many children. The latest ridiculous one is showing a father lying on a bed with 4 or 5 children lying everywhere like pigs.
Gay marriage is old age. Long life to heterosexual couples, married and so forth, like the legend says. No more divorce. This is the best of the World. Lol. Jewish mentality is as previsible for its reversibility as it is for its errance conscience, in fact a total absence of conscience.
We are happy, all over the World, including in Africa, we are reviving dead people and careers and the retirees everywhere…God is power. Definitely.
Talentuous people will still challenge the Jewish Project until the derailment of the whole satanic project.
YOU NOW UNDERSTAND WHY THEY DON'T LIKE THEM TO BE CALLED BY THEIR NAME. CALLING THEM BY THEIR IDENTITY IS CALLING THEIR PROJECT INTO QUESTION AND ON THE  BAR.
YOU KNOW THE STORY :  IN THE COURT OF JUSTICE, NO CORPSE EQUATES NO DEATH.
WE BADLY  NEED JUSTICE AND JUSTICES.
***
NOW HERE IS THE BOTTOM LINE. AS WE TALKED PREVIOUSLY ABOUT PREYS AND HUNTER PHILOSOPHY, HERE IS A CONFIRMATION OF A « HUNTING PREY STORY IN SYRIA » – THANK YOU TO THE RON PAUL INSTITUTE FOR PASSING THE BIG NEWS.
In Shocking, Viral Interview, Qatar Confesses Secrets Behind Syrian War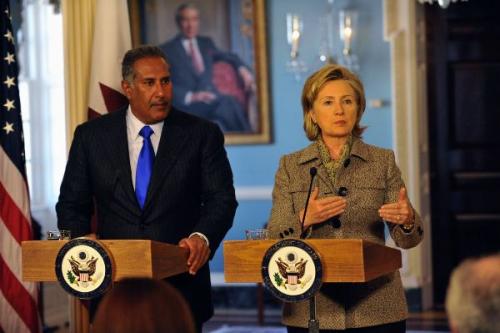 A television interview of a top Qatari official confessing the truth behind the origins of the war in Syria is going viral across Arabic social media during the same week a leaked top secret NSA document was published which confirms that the armed opposition in Syria was under the direct command of foreign governments from the early years of the conflict.
And according to a well-known Syria analyst and economic adviser with close contacts in the Syrian government, the explosive interview constitutes a high level « public admission to collusion and coordination between four countries to destabilize an independent state, [including] possible support for Nusra/al-Qaeda. » Importantly, « this admission will help build case for what Damascus sees as an attack on its security & sovereignty. It will form basis for compensation claims. »
A 2013 London press conference: Qatari Prime Minister Sheikh Hamad bin Jassim bin Jabr Al Thani with U.S. Secretary of State John Kerry. A2014 Hillary Clinton email confirmed Qatar as a state-sponsor of ISIS during that same time period.
As the war in Syria continues slowly winding down, it seems new source material comes out on an almost a weekly basis in the form of testimonials of top officials involved in destabilizing Syria, and even occasional leaked emails and documents which further detail covert regime change operations against the Assad government. Though much of this content serves to confirm what has already long been known by those who have never accepted the simplistic propaganda which has dominated mainstream media, details continue to fall in place, providing future historians with a clearer picture of the true nature of the war.
This process of clarity has been aided – as predicted – by the continued infighting among Gulf Cooperation Council (GCC) former allies Saudi Arabia and Qatar, with each side accusing the other of funding Islamic State and al-Qaeda terrorists (ironically, both true). Increasingly, the world watches as more dirty laundry is aired and the GCC implodes after years of nearly all the gulf monarchies funding jihadist movements in places like Syria, Iraq, and Libya.
The top Qatari official is no less than former Prime Minister Hamad bin Jassim bin Jaber al-Thani, who oversaw Syria operations on behalf of Qatar until 2013 (also as foreign minister), and is seen below with then-Secretary of State Hillary Clinton in this Jan. 2010 photo (as a reminder, Qatar's 2022 World Cup Committee donated $500,000 to the Clinton Foundation in 2014).
In an interview with Qatari TV Wednesday, bin Jaber al-Thani revealed that his country, alongside Saudi Arabia, Turkey, and the United States, began shipping weapons to jihadists from the very moment events « first started » (in 2011).
Al-Thani even likened the covert operation to « hunting prey » – the prey being President Assad and his supporters – « prey » which he admits got away (as Assad is still in power; he used a Gulf Arabic dialect word, « al-sayda », which implies hunting animals or prey for sport). Though Thani denied credible allegations of support for ISIS, the former prime minister's words implied direct Gulf and US support for al-Qaeda in Syria (al-Nusra Front) from the earliest years of the war, and even said Qatar has « full documents » and records proving that the war was planned to effect regime change.
According to Zero Hedge's translation, al-Thani said while acknowledging Gulf nations were arming jihadists in Syria with the approval and support of US and Turkey: « I don't want to go into details but we have full documents about us taking charge [in Syria]. » He claimed that both Saudi Arabia's King Abdullah (who reigned until his death in 2015) and the United States placed Qatar in a lead role concerning covert operations to execute the proxy war.
The former prime minister's comments, while very revealing, were intended as a defense and excuse of Qatar's support for terrorism, and as a critique of the US and Saudi Arabia for essentially leaving Qatar « holding the bag » in terms of the war against Assad. Al-Thani explained that Qatar continued its financing of armed insurgents in Syria while other countries eventually wound down large-scale support, which is why he lashed out at the US and the Saudis, who initially « were with us in the same trench. »
In a previous US television interview which was vastly underreported, al-Thani told Charlie Rose when asked about allegations of Qatar's support for terrorism that, « in Syria, everybody did mistakes, including your country. » And said that when the war began in Syria, « all of use worked through two operation rooms: one in Jordan and one in Turkey. »
Here is the key section of Wednesday's interview, translated and subtitled by @Walid970721. Zero Hedge has reviewed and confirmed the translation, however, as the original rush translator has acknowledged, al-Thani doesn't say « lady » but « prey » [« al-sayda »]- as in both Assad and Syrians were being hunted by the outside countries.
The partial English transcript is as follows:
When the events first started in Syria I went to Saudi Arabia and met with King Abdullah. I did that on the instructions of his highness the prince, my father. He [Abdullah] said we are behind you. You go ahead with this plan and we will coordinate but you should be in charge. I won't get into details but we have full documents and anything that was sent [to Syria] would go to Turkey and was in coordination with the US forces and everything was distributed via the Turks and the US forces. And us and everyone else was involved, the military people. There may have been mistakes and support was given to the wrong faction… Maybe there was a relationship with Nusra, its possible but I myself don't know about this… we were fighting over the prey [« al-sayda »] and now the prey is gone and we are still fighting… and now Bashar is still there. You [US and Saudi Arabia] were with us in the same trench… I have no objection to one changing if he finds that he was wrong, but at least inform your partner… for example leave Bashar [al-Assad] or do this or that, but the situation that has been created now will never allow any progress in the GCC [Gulf Cooperation Council], or any progress on anything if we continue to openly fight.
As is now well-known, the CIA was directly involved in leading regime change efforts in Syria with allied gulf partners, as leaked and declassified US intelligence memos confirm. The US government understood in real time that Gulf and West-supplied advanced weaponry was going to al-Qaeda and ISIS, despite official claims of arming so-called « moderate » rebels. For example, a leaked 2014 intelligence memo sent to Hillary Clinton acknowledged Qatari and Saudi support for ISIS.
The email stated in direct and unambiguous language that:
the governments of Qatar and Saudi Arabia, which are providing clandestine financial and logistic support to ISIL and other radical Sunni groups in the region.
Furthermore, one day before Prime Minister Thani's interview, The Intercept released a new top-secret NSA document unearthed from leaked intelligence files provided by Edward Snowden which show in stunning clarity that the armed opposition in Syria was under the direct command of foreign governments from the early years of the war which has now claimed half a million lives.
The newly released NSA document confirms that a 2013 insurgent attack with advanced surface-to-surface rockets upon civilian areas of Damascus, including Damascus International Airport, was directly supplied and commanded by Saudi Arabia with full prior awareness of US intelligence. As the former Qatari prime minister now also confirms, both the Saudis and US government staffed « operations rooms » overseeing such heinous attacks during the time period of the 2013 Damascus airport attack.
No doubt there remains a massive trove of damning documentary evidence which will continue to trickle out in the coming months and years. At the very least, the continuing Qatari-Saudi diplomatic war will bear more fruit as each side builds a case against the other with charges of supporting terrorism. And as we can see from this latest Qatari TV interview, the United States itself will not be spared in this new open season of airing dirty laundry as old allies turn on each other.
                                                                                      ZeroHedge.  Via Ron Paul Instite. Get the facts clear.
Elise,

TIME Magazine thinks this is an ATTACK against me?

"How Trump's cabinet is dismantling government as we know it."


Good! The federal government is a broken, lobbyist-infested cesspool of corruption that abuses its power, cooks deals for crooked politicians, and despises hardworking Americans.

They're CLUELESS.

America didn't vote for the same old thing. You voted for a wrecking ball to obliterate the status quo and rebuild a new government OF, FOR, and BY the PEOPLE!
But the swamp is revolting! That's why it is so important now more than ever for you to renew your 2017 Sustaining Membership BEFORE MIDNIGHT TONIGHT.
The Fake News Media will do anything to try to rip apart the strong bonds of our movement. But they will never succeed — because we are fighting to save our country, and that's a fight we will NEVER surrender.
I hope to see your name on our next list of 2017 Sustaining Members before midnight.
Please contribute to renew your Sustaining Membership.
Thank you,

Donald J. Trump
President of The United States
****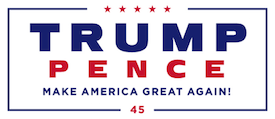 TRUMP PENCE WEEKLY NEWSLETTER
10.29.17
MORNING IN AMERICA… AGAIN
This week marked Ronald Reagan's Tax Reform Act of 1986 and the start of one of the longest economic booms in American history. Unfortunately, since that time our government officials have let us down and we have reverted to becoming one of the highest taxed nations in the developed world. But, President Trump plans to change that. In promoting his historic tax plan, The President said: "The tax cuts and reforms of the 1980s show that when we empower the American people to pursue their dreams, they will not only achieve greatness and create prosperity beyond imagination, they will build an entirely new world." Hard working Americans desperately need tax cuts to begin recovering from our decade of economic stagnation. It is time we ignite America's middle-class miracle once again.
BUILDING POSITIVE ALLIANCES IN ASIA
President Trump hosted Prime Minister Lee Hsien Loong of Singapore, at the White House this week. The leaders highlighted the strong relationship between our two countries, demonstrated in the purchase of 39 Boeing wide-body aircraft by Singapore Airlines, valued at $13.8 billion dollars! And all that money comes straight to Boeing, right here in the USA. Singapore has been an anchor for the presence of the United States in the Indo-Pacific, underpinning regional peace and prosperity for the region and the United States. We look forward to President Trump's historic trip to Asia next month, including stops in Japan, Vietnam, South Korea, the Philippines, and China where he will build positive alliances with our other allies in the region.
ADDRESSING THE OPIOID CRISIS
Preliminary data indicates that approximately 64,000 Americans died last year of drug overdoses in the United States, the majority of them from opioid abuse. That's nearly 100 Americans, on average, who die each day from opioids, robbing so many of our youth of their potential. This is a genuine crisis that President Trump is working tirelessly to address. And this week, the President declared it a public health emergency prompting states across the country to act more rapidly to combat this epidemic. As a Nation, and with the support of President Trump, we can come together to save lives and end this crisis once and for all.
STRENGTH AND PATRIOTISMOn Monday, President Trump awarded the Congressional Medal of Honor to retired Army Captain, Gary Michael Rose. From September 11 through September 14, 1970, Captain Rose repeatedly ran into enemy fire to provide critical medical aid to his partners, using his own body on one occasion to shield a wounded American from harm. "[Y]our will to endure, your love for your fellow soldier, your devotion to your country inspires us all," the President said. "Nations are formed out of the strength and patriotism that lives in the hearts of our heroes."
***
TUESDAY, the 31st. PAY TO PLAY. HOW TO CLEAN YOURSELF UP AND MUTE FROM THE DEVIL TO ANGELICAL FIGURES.


Excerpts. The CIA has in the past recruited MEK/NCRI agents to enter into Iran and report on nuclear facilities, but Israel's Mossad is the group's principal employer. Agents, recruited and trained by Israel, have killed a number of Iranian nuclear scientists and officials. The group appears to have ample financial resources, 

places

 full page ads in major US newspapers, and is also known to pay hefty fees to major political figures who are willing to speak publicly on its behalf. The group claims to want regime change in Iran to restore democracy to the country, an odd assertion as it itself has no internal democracy and is loathed by nearly all Iranians.

Because MEK/NCRI is a resource being used by Tel Aviv in its clandestine war against Iran, it is perhaps inevitable that many friends of Israel in the United States actively campaigned to have the group removed from the terrorism list so that it could, ironically, have a free hand to continue to terrorize Iran. Indeed, neocons at their various think tanks and publications as well as the American Israel Public Affairs Committee all recommended delisting the group and continue to support it. Prominent American Jews to include Elie Wiesel and Alan Dershowitz 

have been advocates

 for the group in spite of its record of terrorism.

The emergence of NCRI at this time is just another fool's game with the usual Washington crowd queuing up for a bad cause because they are both lining their pockets and thinking they are helping Israel by punishing Iran. In any event it is a poor bargain for the rest of us, but that hardly seems to matter anymore.
PLUS
And what about Yémen ?
….