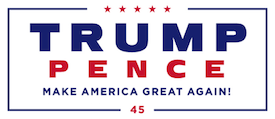 President Trump spent his week putting America First.
He's fighting to keep Americans safe. He's fighting to repeal and replace Obamacare. And he's fighting for more – and better – jobs for the American people!
Today, the Labor Department released the February jobs report that showed President Trump's first month in office added 235,000 more jobs and the unemployment rate dropped to 4.7 percent!
And it didn't stop there, because Exxon Mobil has also announced a $20 BILLION dollar investment program that will bring thousands of jobs to the Gulf Coast region.
Learn more about the President's week and how our movement continues below, in this week's update.
THIS WEEK
Becoming A Symbol Of Our Movement
In 2016, President Trump said he would Make America Great Again. Watch the inspiring story of the hundreds of American workers who manufactured the hats that became a symbol for our movement. We are proud to have a President whose jobs agenda is guided by the principles to buy American and hire American! Watch the video by clicking here.
Making America Safe Again
President Trump has signed a new executive order that will protect our nation from foreign terrorist entry and keep America safe. President Trump is dedicated to serve, protect, and defend the citizens of the United States. Part of that includes protecting our Nation from Radical Islamic Terrorism. President Trump is making our communities safer for everyone. He wants all Americans to succeed –- but that can't happen in an environment of lawless chaos.
Obamacare Replacement Bill
Republicans in the House unveiled the American Health Care Act to help repeal and replace Obamacare. President Trump understands the time for action is now. Obamacare, the President noted, is collapsing. Insurers continue to flee the exchanges while premiums and deductibles skyrocket. It's time to deliver on Republicans' long-standing promise to repeal the disastrous law and replace it with a system that adheres to principles he outlined in his recent address to a joint session of Congress. To read about the bill and what it means for you – click here.
Boosting Job Growth
In addition to the great jobs report that came out after the President's first month in office, Exxon Mobil made another huge announcement. President Trump congratulated the Exxon Mobil Corporation on its ambitious $20 billion investment program that is creating more than 45,000 construction and manufacturing jobs in the United States Gulf Coast region. "This is exactly the kind of investment, economic development and job creation that will help put Americans back to work," the President said.
There is a lot of work ahead of the President and thanks to supporters like you we have a strong movement to support him as he continues to Make America Great Again!
We're in this together and we can't thank you enough for your continued support.
Team Trump-Pence
P.S. Get your own Make America Great Again hat that became a symbol for our campaign today by clicking here.
SAVE THE DATE
Join President Donald J. Trump for a rally this Wednesday in Nashville, TN on March 15th at 6:30 PM CST!
Get your tickets here. Details about the event below:
Wednesday, March 15th: Nashville, TN
Nashville Municipal Auditorium
417 4th Avenue N
Nashville, TN 37201
Doors Open: 3:30 PM (CST)
Event Begins: 6:30 PM (CST)
***
MONDAY, THE 14 – 50 DAYS OF ACTION

By the multiple displays of this pictures, the users have declared them pictures of the year and of the Victory.

This one in particular has been broadly inspirational.

Here it is about the shoes painted on multiple faces, around the World. Rats and Pigs have been shamelessly making money out of it. A vampires is doomed to suck. Isn't it. Thirst is the ultimate nakedness and misery.

The number of fake news sucking into my places is phenomenal. Lol. Every rat would like to dress like me, to wear the same color of dress or at least to be shot wearing something ressembling and to dress her hair like an african woman with a braid. If you were looking for a proof of a coordination between the CIA and the fake news and evidence fake news and the others are wiretapping people of interest, consider this latest exemple below :

The color of the top : orange in a fake news (today). My picture was taken on Saturday night. We were still celebrating women's day.
The theme of this special night was : « African dressing ». In solidarity with African Women.

For the braid, not pictured here, it is another take this very night (sunday night), around 3a.m. on my sofa, inside my living room, doing exactly this : a braid. The number of time, jewish outlets have tried to either silence or terrorize me, sucking my life is laughable. Smallness and vampirism now stand as success stories. Uglyness and bestiality added upon.

Deshumanisation is not a process, it is a permanent state. It is the deep state. Unfortunately, once the CIA has been infiltrated by midgets, derailment was end of the road. Here we are. Who is going to investigate the FBI or the CIA ? Read below what Doctor Ron Paul has to say over the topic (1).

Midgets and wiretapping are an indissociable pack. Wiretapping is blood and midgets are bloodsuckers.

Anti-semitism is no longer a convenient tool or a shelter.
50 DAYS OF ACTION
When President Trump said he'd get to work — he meant it.
In the first 50 days, President Trump has delivered on numerous promises he's made to the American people.
The Administration has taken action to secure our borders, reduce red tape and regulations, repeal and replace Obamacare, and Make America Great Again!
The Fake News Media won't report on President Trump's accomplishments.
President Trump promised to form a government of, for, and by the American people. But it can't work unless you step up and have a voice in our new government.
Thank you
***

MSNBC just finished airing Senator Bernie Sanders' long-awaited town hall in McDowell County, West Virginia with Chris Hayes only a few moments ago. We want everyone across America, in blue states, red states and the battlegrounds, to hear what the folks in McDowell County had to say.
Growing income inequality has devastated communities like McDowell County all across the nation. Jobs have vanished because of terrible trade deals — and now their health care is at risk as Congressional Republicans try to dismantle the Affordable Care Act. As many as 24 million Americans could be uninsured by 2026 if the Republicans repeal Obamacare.
Our Revolution believes that counties like McDowell County must be part of a 50-state, 3,143-county strategy to re-engage the American public and give everyone a voice in government.
Places like McDowell County have been neglected by the political establishment for generations. They're suffering from crises like the opioid epidemic, shrinking life expectancies, and even having to choose between food and utility bills. Millions of our fellow Americans are living this reality every day, but their stories are too often shut out from cable news. Thousands of races for local, state and even federal office go uncontested as people lose hope in government and move further away from the issues that bring us together.
We want to change that, because the only way that we can end poverty, fix health care and improve the quality of life for all Americans is to invest in every single county, and every single state — not just during campaign cycles, but every single day of every single year.
Donate to support a 50-state strategy that doesn't shy away from uncomfortable truths, but ensures that Washington puts people ahead of special interests.
Let's go forward together to bring about the change we need.
In solidarity,
Shannon Jackson
Executive Director
Our Revolution
***
TUESDAY, THE  14TH –

MAKE AMERICA GREAT AGAIN CONSISTS IN BREAKING THE CIRCLE OF THE GREAT NOTHING.
(1) Ron Paul Calls WikiLeaks Revelation of CIA Documents 'Fantastic'
Written by Adam Dick (Ron Paul Institute)
Saturday March 11, 2017
Ron Paul, the prominent libertarian communicator and three-time US presidential candidate, declared this week in a Fox Business interview that it is "fantastic" that WikiLeaks revealed on Tuesday thousands of US Central Intelligence Agency (CIA) documents and files. Speaking with host Kennedy, Paul further says that the information exposed "indicates that liberty is in big trouble" and states his concern about there having been insufficient media coverage of the information.Watch Paul's complete interview, in which he also talks about potential dangers related to technology, here:_Plus Criticizing Neoconservatives and the Deep State is Anti-Semitic? (Ron Paul Institute)
Read also our previous post.
_ US. New Executive Order on Immigration. Next : Gun violence destructive force. Women's day! And Institutional predators.
_ Truman Was Right About the CIA. (Ron Paul Institute)
« Everyone is suddenly talking about the Deep State – the configuration of spy agencies, career bureaucrats, and overseas spooks whose murky omnipresence has been brought to light by President Trump's contention that he was "wiretapped" by his predecessor »._Spygate: America's Political Police vs. Donald J. Trump. (Ron Paul Institute)
https://wikileaks.org/ciav7p1/ –
U.S. Consulate in Frankfurt is a covert CIA hacker base. Not surprising, The Germany chancelor was wiretapped, during Obama's tenure.
***
WEDNESDAY, THE 15TH. THE CIA PREDATION AND THE CYBER-SPHERE

In the cyber-sphere there are many predators.

What much is left from our « remaining liberties » ?
The WikiLeaks exposure of thousands of documents relating to the Central Intelligence Agency's (CIA) hacking program, which was expanded dramatically under President Barack Obama between 2013 and 2016, has created something of a panic in the users of cell phones, online computers and even for smart television viewers. The documents describe "more than a thousand hacking systems, trojans, viruses and other 'weaponized' malware" and one document even identifies attempts to enable CIA controllers to take control of automobiles that have "On Star" or similar satellite interactive features.
According to analysts who have gone through the documents, any electronic device that is connected to the internet is reported to be vulnerable to being taken over and "weaponized," manipulated through its microphone or camera function even if it appears to be turned off. Apple, Google, Android and Microsoft products were among the technologies that were targeted, with the security systems being constantly probed for vulnerabilities. When a flaw was discovered it was described as "zero day" because the user would have zero time to react to the detection and exploitation of the vulnerability.
And they are indeed everywhere. Ron Paul has described a woman's test on the Amazon marketed interactive voice controlled device called Alexa, asking it if it were reporting to the CIA. Alexa, which allegedly cannot tell a lie, refused to answer.
…
This need to develop an independent capability led to the development of new technologies by the CIA working with its British counterparts. There were apparently successful efforts to target Samsung "smart" televisions, which would use their speakers to record conversations even when the set was turned off. The project was called "Weeping Angel," and other hacking programs were called "Brutal Kangaroo," "Assassin," "Hammer Drill," "Swindle," "Fine Dining" and "Cutthroat," demonstrating that government bureaucrats sometimes possess a dark sense of humor.
…
Another issue is the possibility to engage in mischief, with potentially serious consequences. The WikiLeaks documents suggest that the CIA program called UMBRAGE had been able to acquire malware signatures and attack codes from Russia, China, Iran and other places. It does that so it can confuse detection systems and preserve "plausible denial" if its intrusion gets caught, disguising its own efforts as Russian or Chinese to cast the blame on the intelligence services of those countries. It has been alleged that the hack of the Democratic National Committee computers was carried out by Moscow employed surrogates and part of the evidence produced was signature malware that had left "fingerprints" linked to Russian military intelligence in Ukraine. What if that hack was actually done by the CIA for domestic political reasons?
Excerpts from What Is the CIA Hack All About?
***
REMINDER. 
Join President Donald J. Trump for a rally tomorrow in Nashville, TN on March 15th at 6:30 PM CST!
Get your tickets here. Details about the event below:
Wednesday, March 15th: Nashville, TN
Nashville Municipal Auditorium
417 4th Avenue N
Nashville, TN 37201
Doors Open: 3:30 PM (CST)
Event Begins: 6:30 PM (CST)
Please limit personal items and arrive early to expedite entrance into the venue – please note, NO homemade signs, banners, professional cameras with a detachable lens, tripods, monopods, selfie sticks, back packs or large bags will be permitted into the venue.
We hope to see you there!
Merchandise will be sold at this event. If you are unable to attend, you can always pick-up your MAGA gear here at our online store.
Sincerely,
Team Trump–Pence
***
Ps. the links below are worldpress choice. Published in « African Challenges » is a sabotage. But are experts by now of the sabotaging game, led in band, you are aware of the trickery. The links are corrupt, as many things  sold out there by who you already know. Links below were published in « America » first. African challenges and others are second. Nothing can stop venon to spread and flaws to remain normalcy. The Earth was conceived around an Equation : God vs Satan.
Most of the time, Satan is leading the game. But, God is watching. And sometimes to times, Big things are revealed. All of the sudden, the CIA has come naked. The fake press agenda is debunked. In France, those fake news, all  Jewish own are hunting  Fillon, to impeach him.
France is under colonisation. Interesting, interesting to notice. Mediapart – who robbed the idea of a bilingual outlet, after I initiated it in France, is fighting teeth and nails out to eat Fillon. Those petty business have been winning the game this way: hijacking the system.
Think about the cost of an idea the thieves never paid a dime for, but they are out there pointing fingers. Meanwhile, french gov is funding those fake press with subsidies.
2012 was the origin of the sin.
2017 the beast is unleashed. So is the can of worms.
…
France has come a long way, from Germany Occupation to the New Unamed one, for the occupier is looking much more as white as the french by origins.
♦
FRIDAY, THE 17TH

AMERICA FIRST BUDGET
This morning (Thirsday, the 16th), President Trump released the America First budget, which promises to make our nation a better, safer, and stronger place for generations to come. Here's how he will do that:
Department of Veterans Affairs +10.2% in funding
Department of Defense +10.0% in funding
Department of Homeland Security +7.3% in funding
Environmental Protection Agency – 31% in funding
President Trump is delivering on promises to strengthen our military, build a wall securing our country, and provide more resources for our veterans who risk their lives to protect us, while cutting BILLIONS from liberal programs.
Elise, add your name to the official petition supporting President Trump and his America First budget.
Elise, the Fake News and Democrats in Congress will try to stop this budget every step of the way, which is why your support is so important to the President right now.
This is a budget for the American people, and without your help we won't be able to cut through the noise. We need your help to support the budget that puts AMERICA FIRST.
President Trump ran on a promise to make America stronger. He ran on a promise to put our great nation first, and now we have a blueprint to make it happen. Elise, add your name today to support the America First budget.
It's time to Make America Great Again!
Thank you,
Trump Headquarters