LE CHANT CI-DESSOUS EST UN MIX DE CANTIQUES BASSAS. SOURCE. LITENLIBASSA.COM. Liten veut dire : la souche. Litenlibassa (la souche des bassas). Même si tous les Africains sont Majoritairement de souche Bantous.
Ici aussi corruption de la bande son. C'est que je dois faire peur. Il faut que je sois réduite au silence. Vraiment.
Sur le site scenepublique.com (scene publique internationale) hébergé chez OVH, c'est
Fatal error partout. Site non consultable. Les rats sont busy et ça vous cause de démocratie.
Bref tous mes sites sont corrompus. Bravo aux rats. Le monde des rats est beau comme un lavabo.
Voir l'article lié, ci-bas. Là- aussi, corruption.
Les accès via Google corrompus également pour le site scenepublique.com où on attérit sur fatal error, ainsi s'écrit l'histoire falsifiée par les rats, dès le départ.
La vidéo de la tour Eiffel les as rendus encore plus minus. Des jaloux et des miteux. Tous les yeux sont tournés sur mes sites et écrits et productions à saboter. Non contents d'en vivre et de syphonner les contenus et de m'attaquer personnellement, en fouillant ma vie personnelle et d'essayer de superposer sur ma personne des êtres sans consistance, il faut encore saboter.
Vous pensez que j'utilise des mots forts, c'est rien.
Dans mon voisinage, dès que je poste un flash ou je fredonne un chant, immédiatement, on met du Céline Dion très fort dans le quartier. Qui écoute encore Céline Dion ? Ceux qui  l'écoutent, tant mieux pour eux. Je m'en fous perso.
Elle va bien, c'est bien, mais il faut voir ce business des clebs juifs affairistes, dès que vous postez quelque chose, ils en profitent pour vendre un truc ressemblant. Pire, ils font de ce truc ressemblant – selon eux – une arme pour vous attaquer, nuire, harceler, narguer jusque dans votre chambre à coucher.
Un voisin ce matin a lancé son Céline Dion si fort que le voisin du dessous est allé lui dire de se calmer. Le voisin ne sait pas à qui la chose provocatrice était destinée…  Ils ne causent jamais, ces lâches, toujours planqués derrière une façade ou un mur. Ils appellent cela la stratégie. Bien entendu, ils veillent à ce que leur harcèlement ne soit ni vu ni attaquable.
Nés parasites, c'est dans le sang et les gênes. Genre un juif affairiste va m'interdire d'être ce que je suis, d'écrire, de m'exprimer, de chanter, de poster mes flashes… Ils ne perdent rien pour attendre.
La conscience mondiale est là. Nous sommes à un tournant historique.
S'il faut épouser un vieux de l'âge de son père ou coucher avec les rats pour chanter chez les « majors », alors, ils peuvent aller se rhabiller avec leurs tripes en guise de phallus quémandeur. Non merci les femmes noires leur ont dit à Paris, car lorsqu'ils viennent dans les réunions des blacks avec insistance, c'est pour promener leur malheur et laideur.
Ces êtres sont mauvais et puants. Les juifs d'Israél ont connu la terre. Ceux qui les précèdent et qui ont une histoire d'errance, établis chez les autres, sont des pirates, engagés dans une croisade qui ne dit pas son nom. C'est clair, s'ils affichent les couleurs, ils sont perdus.
Alors, c'est silence et terrorisme le doigt pointé sur les autres et le regard toujours porté sur les possessions et créations des autres à détruire ou à sucer.
J'avais écrit que j'étais inclassable, tiens donc, un sniffer a récupéré comme titre d'un livre. Livre ? Ecrit par des illettrés ? Exemple parfait de ce qu'est devenue la télé-maçon(nique).

Puis j'ai dit que la race des clebs était une race d'obsédés sexuels, tiens donc, un des leurs, commentateurs (menteurs de son état) a repris la formule pour la faire passer aux combattants du Jihad (Daesch en l'occurrence). Genre, ils sont dans le Jihad pour le sexe et les vierges… La belle affaire. Les bonimenteurs constituent l'autre version des brutes qui lessivent les cerveaux des ignares inclassables. On reécrit l'Histoire en faux.

Ils tuent Kadhafi et puis viennent vous dire tranquillement, oh oui les Benghazi boys ont fait cela, avec notre aide financière et logistique pour .. avoir des filles et du sexe. Menteurs.
Franchement, comment les Français peuvent-ils boire de ce breuvage frelaté ? Faut-il que vous soyiez aussi faibles pour laisser la pisse vous dominer à ce point ?
C'est simple : à ce compte-là, ils vont vous étouffer. Si vous ne l'avez pas compris, considérez la France comme faisant partie du Passé. La France éternelle, c'est fini cela avec l'UE qui détruit toute la civilisation et culture européenne.
L'UE ce sont les banques qui la gèrent. Il faut redonner la souveraineté de battre monnaie à la Banque de France et non aux banquiers Juifs Affairistes engagés dans la destruction de la France. Encore un paradoxe.
OUVREZ LES YEUX MON DIEU… Mais comment les ouvrir ? Ventre affamé n'a point d'oreilles.
Pendant ce temps-là, OVH ouvre les vannes du site aux bandits frères. Quelle race immonde. Ils bouffent gratis ici et au lieu de dire merci, ils sabotent. Un chien errant semble condamner à l'errance.
Il faut voir un Prêtre pour qu'ils prient pour votre hispice de race.
Au fait, comment le voisin d'en face sait-il que j'avais transmis un flash hier à radio-silence ? Et comment peut-il en connaître le contenu ?
Chercher les saboteurs. C'est comme si vous demandiez comment les lâches de la même hispice utilisent les panneaux publicitaires de la voie publique pour porter atteinte à ma vie privée??? Comment ??? Les rats écoutent tout. A votre avis ?
C'est pour en vivre et d'un.
Saboter et tuer les créateurs qu'ils pillent, ainsi qu'ils l'ont fait tout au long de l'histoire, en réduisant au silence les véritables créateurs. Toute l'histoire des créateurs de ci ou de ça est à vérifier de fond en comble. Les juifs affairistes ayant piqué les idées des autres – il n y a qu'à voir leur expertise en plagiat et la montée de la criminalité, des guerres et la transformation de l'Amérique en territoire du crime, pour le comprendre.
Alors, lorsque vous allez chez le banquier pour qu'ils vous financent, attention à vous. Si vous n'êtes pas des leurs, ils piqueront votre idée. En allant voir le banquier avec une innovation, vous êtes de la chair à canon pour eux. Pourquoi pensez-vous que les banques soient leur domaine réservé ? Pour vous piller.
En cela, je prophétise la mort de l'Union Européenne. C'est écrit, car c'est une escroquerie monumentale des banques et d'un peuple qu'on n'a que trop vu à l'oeuvre pour lui accorder la moindre once d'honnêteté.
…
L'ironie du sort, c'est qu'ils périront de la même façon que les hommes politiques français sont en train de finir. A trop confisquer l'espace public, on finit par susciter le dégoût et par faire exploser les machines les plus sécurisées.
Les nouvelles technologies vont sonner l'hallali des banques et de leur racket mondial, et de la race sans origine qui les tient. Mais pas seulement les banques, la concurrence va refaire surface là où on la croyait à jamais bannie.
Tout ce sur quoi ce système est bâti, les mensonges, les médias de merde, les partis politiques verrouillés, les banques pilleuses, le secteur public bradé va changer. A côté des missions régaliennes… L'eau, l'énergie, la téléphonie, les banques, le logement, Internet, les transports, le pouvoir de battre monnaie au moins doivent être nationalisés… la concurrence demeurera pour son propre compte.
Voir tout ce fric de la téléphonie entrer dans les poches des frères de sang mêlé est une catastrophe nationale. En fait, il existe une race qui vit du pillage même de l'Etat, de sa souveraineté et de la privatisation des Services Publics. Et ils parlent de réussite en affaires. Lesquelles ? Là où le risque est presque égal à zéro, certainement.
***
Mais dites moi, il suffit de le dire pour en trouver l'écho dans une profession de foi exemplaire. C'est celle de l'UPR : l'Union Populaire Républicaine, l'Union du peuple pour rétablir la démocratie. Avec François Asselineau, Président de l'Union populaire républicaine.
⇒ Ils proposeront un grand programme de relance des services publics à la française (avec renationalisation de EDF, GDF, La Poste, la SNCF, France Télécom (Orange), TF1, TDF, des autoroutes et des sociétés d'adduction d'eau.
Qu'est-ce que je viens de vous dire. Tout acteur honnête le sait et sait que la traite du service public par les rats innommables relève de la haute trahison de nos élites qui bradent le patrimoine public aux chiens. La prise de conscience précède l'action qui, elle, exige du courage.
⇒ L'UPR exigera le vote des parlementaires avant toute intervention de nos soldats à l'étranger, pour que la France ne s'engage plus dans des guerres illégales – à l'instar de cele de la Libye. Un crime qui n'a pas encore été ni payé, ni jugé.
⇒ L'UPR exigera une transparence totale sur le coût complet de notre appartenance à l'Union européenne, à la zone euro et à l'Organisation du traité d el'Atlantique Nord (OTAN)
⇒ L'UPR proposera un grand programme de logements sociaux (+80 000 par an).
Le bradage des industries stratégiques françaises est annoncé.
FRANCE LA GRANDE BRADERIE
« Résultat d'une gigantesque opération de propagande, l'élection d'Emmanuel Macron laisse la scène politique en ruines. Tous les anciens partis sont au bord de l'implosion,  tandis que « la République en marche » recrute de façon précipitée et brouillonne des politiciens opportunistes de tout poil.
Le point commun de tous ces dirigeants et de leurs partis est de faire semblant. Ils vous parlent comme si la France était toujours dirigée en toute liberté par nos élus. Ils vous cachent la relation de cause à effet qui existe entre notre appartenance à l'Union européenne et les politiques d'austérité et de régression sociale qui nous sont imposées quels que soient les dirigeants élus. Ils vous dissimulent l'essentiel : les traités européens sont contraignants et la France est soumise aux décisions de Bruxelles.
…
Tous les autres partis savent que l'euro finira par exploser, mais ils n'en parlent pas. Cette explosion ravagera nos économies, alors que le retour planifié au franc ne causera pas plus de difficultés que n'en avait créé le fameux « bug de l'an 2000 ».
Face à ces silences, l'Union populaire républicaine (UPR) apporte un formidable renouveau, en disqualifiant tous les partis installés, lâches et discrédités. Car l'UPR a fait, une fois pour toutes, le choix de l'honnêteté et du courage, en proposant aux Français de récupérer leur indépendance nationale.
Seule notre souveraineté retrouvée permettra de rendre aux Français leur démocratie réelle, de protéger leur emploi, leur niveau de vie, leur sécurité et leur justice sociale, et de restaurer la France comme puissance libre et pacifique« .
Extrait profession de foi. UPR.fr – Quels sont vos candidats UPR ? Consulter le site de l'UPR.
Tous les autres partis savent que l'euro finira par exploser, mais ils n'en parlent pas. Cette explosion ravagera nos économies, alors que le retour planifié au franc ne causera pas plus de difficultés que n'en avait créé le fameux « bug de l'an 2000 ».  Affirmatif.

Les partis installés, lâches et discrédités. Affirmatif.
Car l'UPR a fait, une fois pour toutes, le choix de l'honnêteté et du courage, en proposant aux Français de récupérer leur indépendance nationale. J'adhère.
Rendre aux Français leur démocratie réelle. Affirmatif.
————————–
LE TRAVESTISSEMENT DE LA REALITE ET DES FAITS EST UNE SPECIALITE D'ORIGINE CONTROLEE.
A suivre.
Pendant que j'y suis, on n'a presque rien dit sur les Infrastructures…
Voici ce que l'Amérique se propose de faire en la matière, pendant que nous lorgnons par le petit bout.
Week 20: Infrastructure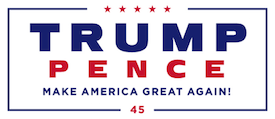 Elise,
This week, President Trump addressed America's crumbling infrastructure, which is out of date and falling apart.
The Obama Administration's attempt to rebuild the country's infrastructure was an expensive waste that saw little money actually go to the intended purpose. Billions were spent on projects that still have not been completed after years of development.
President Trump is pushing to rebuild American infrastructure by partnering with the private sector and getting government off the back of the American economy. As such, President Trump dedicated $200 billion as part of his proposed $1 trillion investment plan to rebuild infrastructure.
Read more about President Trump Making America Great Again below.
New Era In American Aviation
President Trump kicked off Infrastructure week with the announcement of his Air Traffic Control Initiative. The President proposed to shift the Federal Aviation Administration's air traffic control function as a not-for-profit, non-governmental organization. President Trump pointed out unacceptable delays, wait times, and route inefficiencies supported by our current system, costing an estimated $25 billion a year in economic output. The United States can no longer afford to lag behind in an industry that supports 1 out of every 14 American workers.
Unbreakable Support For The People Who Protect Us
President Trump signed into law two bi-partisan bills that prioritize the hiring of veterans in law enforcement and provide survivor benefits to family members of public safety officers that are killed in the line duty. The President has reaffirmed his unbreakable support for these American heroes, who keep our streets, our homes, and our citizens safe.
Paying Tribute To Our Heroes And Their Families
This week at the White House, President Donald Trump and First Lady Melania Trump hosted a reception to honor Gold Star families and those they have lost. These families have endured the ultimate sacrifice on behalf of our country, and President Trump is honored to have spent the evening with them. The President and First Lady are committed to always paying tribute to our active service military, veterans, and the families who love them. We will never forget our fallen heroes.
Unraveling the Burdens Of Obamacare On Women Small-Business Owners
Vice President Pence sat down with women small-business owners to talk about the terrible burden that Obamacare is placing on job creators. It is estimated that more than 11.3 million businesses in America are women-owned businesses, employing nearly 9 million people across this country, with more than $1.6 trillion in revenues. Obamacare is putting a tremendous burden on small businesses across this country with its red tape, skyrocketing premium costs, mandates, and taxes that have been costing jobs and stifling economic growth. Since being elected, the President has been fighting to roll back excessive regulations, to unleash the power of American energy, keep the cost of energy low, and repeal and replace Obamacare.
The Newest American Astronauts
Vice President Pence spent his birthday in Houston touring NASA's Johnson Space Center. While there, he had the pleasure of congratulating the 12 newest American astronauts. Only 338 Americans have ever held the title of "American astronaut," while their numbers have been few, their accomplishments have been legion. These 12 men and women have already soared to tremendous heights. They are the elites, the best of us, and they carry the hopes and dreams of the American people on their shoulders to new heights.
Still Looking For A Father's Day Gift For Dad?
Make Father's Day Great by checking out our new Father Day Bundles! Order now by clicking here and get it before June 18th.
President Trump is taking the first important step to unleash the power of the American economy. America is the nation that pioneered air travel, landed on the moon, and we can once again lead the way far into the future.
And it is with the strong leadership of President Trump that America's next great chapter awaits.
Thank you again for your support to Make America Great Again,
Team Trump-Pence
***
LEGISLATIVES 11 JUIN. UNE DEMI-MAJORITE ANNONCEE.

Excellente journée printanière. Calme, sereine et reposante.
Tout bon pour aller voter, si on avait le coeur à le faire.
Dieu qu'on se sentait lourd. Manque d'enthousiasme et de foi. On n'y croit plus et puis en renversant le calendrier, les législatives ont perdu la saveur. Elles semblent sans enjeu. L'effet decrescendo a tué les législatives. La passion retombe après le pic des présidentielles.
Donc advienne que pourra, le parlement est un appendice gouvernemental.
Nouveau : Free (la box) n'arrête pas de sauter depuis que je veux poster cet appendice… Oui, il y a la photo et ça c'est interdit par le gang. Il y a l'heure, mais pas moyen de poster.
Qui est derrière tout cela ? Le nouveau régime arrive fort. Mes amis, vous ne pourrez plus faire du web, sauf si vous vous soumettez.
Ah miracle, après moults clics, on a pu obtenir quelque chose.
Manque d'enthousiasme.
Taux d'abstention : 50,2%. Un électeur sur deux s'est déplacé.
C'était la projection ici. ON VA APPELER CELA UNE DEMI-MAJORITE.
…..