While president Obama is calling Israel to be serious with the peace talks with the Palestinians and Kerry arriving in Kiev with a pack of corruption up to 1 billion dollars, here is an information of the utmost importance to fix the gamblers, if you are one of them.
Faites vos jeux, rien ne va plus. 
By the way, British football body is stupid for its injust sanctions against Anelka – watch the picture above is it a Nazi salute going backwards or a sign telling « fuck you » – you Slaves of Israel and scouts alike.
————————————-
Global Research, March 03, 2014
Under the title "In Kiev, an Israeli army vet led a street-fighting unit", the Jewish News Agency JTA confirms that soldiers from the IDF were involved in the EuroMaidan protest movement under the direct command of the Neo-Nazi Svoboda Party. The Svoboda Party follows in the footsteps of World War II Nazi collaborator Stepan Bandera.
The leader of the "Blue Helmets of Maidan" is Delta "the nom de guerre of the commander of a Jewish-led militia force that participated in the Ukrainian revolution". Delta is a Veteran of the notorious Givati infantry brigade, which was involved in numerous operations directed against Gaza including Operation Cast Lead in 2008-2009.
The Givati brigade was responsible for the massacres in the Tel el-Hawa neighborhood of Gaza. Delta, the leader of the EuroMaidan IDF unit acknowledges that he acquired his urban combat skills in the Shu'alei Shimshon reconnaissance battalion of the Givati brigade.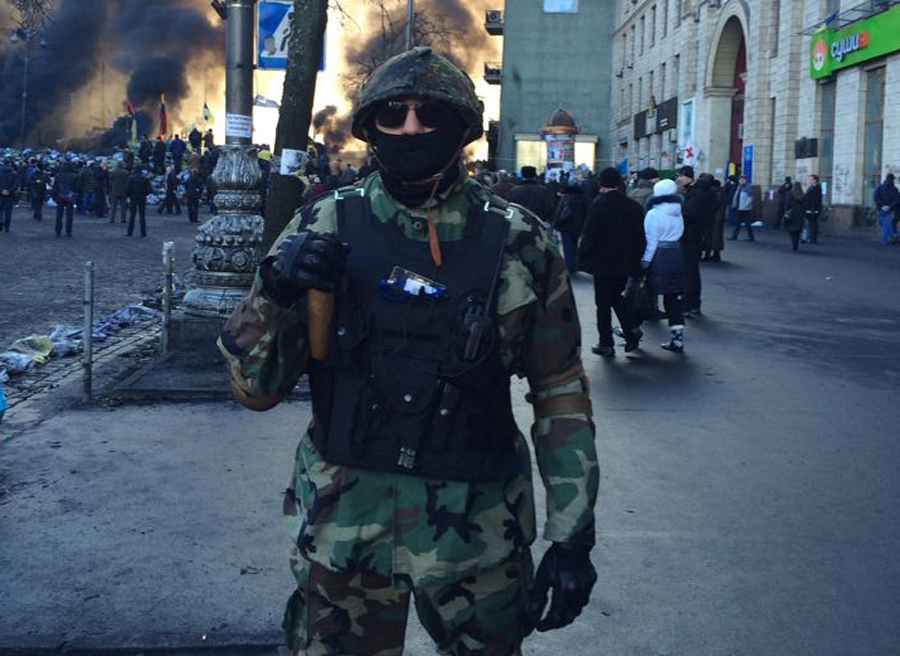 Delta, the nom de guerre of the Jewish commander of a Ukrainian street-fighting unit, is pictured in Kiev earlier this month. (Courtesy of 'Delta')
According to the JTA report, Delta was in command of a force of 40 men and women including several former IDF veterans. In the EuroMaidan, Delta was routinely applying his skills of urban warfare which he had used against the Palestinians in Gaza.
The Maidan "Street fighting unit" under Delta's command was involved in confronting government forces. It is unclear from the reports whether the EuroMaidan combat unit was in liaison with IDF command headquarters in Israel:
The Blue Helmets comprise 35 men and women who are not Jewish, and who are led by five ex-IDF soldiers, says Delta, an Orthodox Jew in his late 30s

Delta, who immigrated to Israel in the 1990s, moved back to Ukraine several years ago … He says he joined the protest movement as a volunteer on Nov. 30, after witnessing violence by government forces against student protesters.

"I saw unarmed civilians with no military background being ground by a well-oiled military machine, and it made my blood boil," Delta told JTA in Hebrew laced with military jargon. "I joined them then and there, and I started fighting back the way I learned how, through urban warfare maneuvers. People followed, and I found myself heading a platoon of young men. Kids, really."

The other ex-IDF infantrymen joined the Blue Helmets later after hearing it was led by a fellow vet, Delta said.
In a bitter irony, Delta, the commander of the IDF militia unit was taking his orders directly from the Neo-Nazi Party Svoboda:
As platoon leader, Delta says he takes orders from activists connected to Svoboda, an ultra-nationalist [Neo-Nazi] party that has been frequently accused of anti-Semitism and whose members have been said to have had key positions in organizing the opposition protests.

"I don't belong [to Svoboda], but I take orders from their team. They know I'm Israeli, Jewish and an ex-IDF soldier. They call me 'brother,'" he said. "What they're saying about Svoboda is exaggerated, I know this for a fact. I don't like them because they're inconsistent, not because of [any] anti-Semitism issue."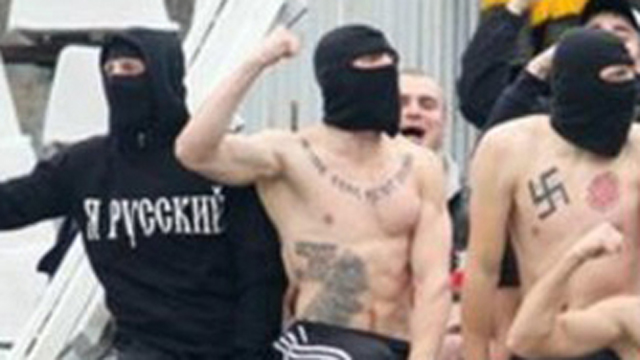 Neither the Tel Aviv government nor the Israeli media have expressed concern regarding the fact that the EuroMaidan protests were led by Neo-Nazis.
With the formation of a new government composed of NeoNazis, the Jewish community in Kiev is threatened. This community is described as "one of the most vibrant Jewish communities in the world, with dozens of active Jewish organizations and institutions". A significant part of this community is made up of family members of holocaust survivors. "Three million Ukrainians were murdered by the Nazis during their occupation of Ukraine, including 900,000 Jews." (indybay.org, January 29, 2014).
"It's bullshit. I never saw any expression of anti-Semitism during the protests"
In a bitter twist, the Blue Helmet IDF unit in the EuroMaidan has been the object of praise by the Israeli media. According to Ariel Cohen of the Washington based Heritage Foundation: "The commanding position of Svoboda in the revolution is no secret". The participation of Israeli soldiers under Neo-Nazi Svoboda command does not seem to be an object of concern:
On Wednesday, Russian State Duma Chairman Sergey Naryshkin said Moscow was concerned about anti-Semitic declarations by radical groups in Ukraine.But Delta says the Kremlin is using the anti-Semitism card falsely to delegitimize the Ukrainian revolution, which is distancing Ukraine from Russia's sphere of influence.

"It's bullshit. I never saw any expression of anti-Semitism during the protests, and the claims to the contrary were part of the reason I joined the movement. We're trying to show that Jews care," he said.
See Svoboda and Right Sector militants honoring Stepan Bandera(image below)
Bandera was a Nazi collaborator involved in the Third Reich's Einsatzgruppen (Task Groups or Deployment Groups) . These "task forces" were paramilitary death squads deployed throughout the Ukraine.
Neo-Nazis Honoring Stepan Bandera
The JTA article can be consulted at www.jta.org/2014/02/28/news-opinion/world/in-kiev-an-israeli-militia-commander-fights-in-the-streets-and-saves-lives#ixzz2uvYcMBEl
HERE IS OUR COMMENT
In France, the Great Jewish larbin nation on Earth, you have a dealer of crimes named, Bernard Henri Lévy, the Israeli Johnny Walker. When you see his hawk's face somewhere, know that he is there as scout for Israeli underground business. This hawk was in Kosovo, and see how things slipped dangerously out of hands and brains alike. The same hawk is behind Gadhafi's demoniac slaughter we will never forget. Not to mention the Syrian case he contributed to fuel and the applauses over the Arab Spring. This Man is the Devil epitomized.
How this crook intellectual has succeeded in convincing a president we thought was intelligent and wise enough to detect those kind of new criminal globe- trotters vampirising the World, only Israel knows, may I say the semitic order also…
Get More over the suprising and immediate release of Tymoshenko.
——————————-
From CNN. — Ukraine's ousted president gave no orders to shoot demonstrators; new government came to power in coup – Russia's Putin.
Log on to: http://edition.cnn.com for the latest news
From the New York Times

Putin Calls Events in Ukraine an 'Unconstitutional Coup'

As Secretary of State John Kerry headed for embattled Kiev to meet with Ukraine's fledgling leadership, President Vladimir V. Putin on Tuesday described the crisis there as the result of an "unconstitutional coup," throwing his support behind ousted President Viktor F. Yanukovych and reserving the right to use force as "a last resort," news reports said.
In televised remarks reported by Reuters, Mr. Putin also said there was no need to use force at the moment in Crimea, Ukraine's southern region on the Black Sea where Russian troops and naval vessels have encircled Ukrainian military facilities, saying they were protecting ethnic Russians.
Mr. Putin's remarks came after declared the scheduled end of a surprise military exercise he ordered in western Russia near Ukraine's border last week, telling military units that participated to return to their permanent garrisons.
READ MORE »

http://www.nytimes.com/2014/03/05/world/europe/ukraine.html?emc=edit_na_20140304
AND………………..