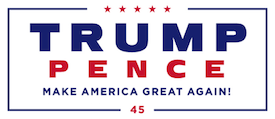 President Trump promised that he would put in place common sense reforms to eliminate waste so that the government better serves all Americans.
There is duplication and redundancy everywhere. Billions and billions of dollars are being wasted on activities that are not delivering results for hardworking American taxpayers.
We must make our government leaner and more accountable. We must do a lot more with less.
President Trump will ensure that huge savings will be accomplished through common sense reforms that eliminate government waste and end budget gimmicks.
Learn more about the President's week below.
Swearing In A Strong Defender Of The Constitution
Justice Neil Gorsuch, President Trump's pick to fill the vacant seat on the United States Supreme Court, was formally sworn in on Monday. Justice Gorsuch is a man of unquestioned integrity and deep faith in the Constitution of the United States. It is critical to have a strong defender of the Constitution like Justice Gorsuch sitting on the United States Supreme Court.
Honoring The Men And Women Who Serve Our Nation
The White House hosted the Wounded Warriors Project Soldier Ride to pay tribute to the men and women who have fought for and protected our country. President Trump delivered remarks to honor the brave men and women who have served this nation at an event in the East Room of the White House.
Working With Business Leaders To Grow The Economy
President Trump gathered with a group of world-class business leaders this week at the White House to discuss the creation of great, high-paying jobs for American workers. Since the President took office, over 600,000 jobs already been created. This week, Toyota announced that it will invest more than $1.3 billion into its Georgetown, Kentucky plant that will result many more jobs in the future.
Working With NATO To Focus On The Challenges Of The Future
President Trump welcomed NATO Secretary General Stoltenberg to the White House this week. NATO allies defeated communism and liberated captive nations during the Cold War. They have secured the longest period of unbroken peace that Europe has ever known. This enduring partnership is rooted in many different things, but our nations' security is the priority, as is our common devotion to human dignity and freedom. In the coming months and years, President Trump will work closely with all of our NATO allies to enhance this partnership and to adapt to the challenges of the future. This includes upgrading NATO to focus on today's most pressing security issues including migration and terrorism.
Celebrating Spring In Style
Celebrate Spring in style in these limited edition hats while showing your friends and family that you're on the Trump Train. This is a limited one-time run of Spring edition Make America Great Again Hats – get yours before it's too late by clicking here. 
For too long, we've punished production in America and rewarded companies for leaving our country — it's time to reverse that.
President Trump has already taken historic action to unleash job creation, signing dozens of bills and executive actions to reduce federal overreach and expand domestic production.
The President is also simultaneously working to modernize our economy and harness the full potential of women in the workforce. Economic confidence is sweeping the nation.
Thank you for joining us for another week and thank you for your continued support!
Team Trump-Pence
——-
SYRIA IS A MACHIAVELICAL SCENARIO PERFORMED BY DRACULA TO IMPOSE WAR ON ASSAD INJUSTLY. THIS IS HOW PARASITES HAVE BEEN CONDUCTING INTERNATIONAL BUSINESS SINCE THE POST-WW2 AREA.
THIEVES AND KILLERS KNOW NO SHAME. IT IS A MACHINE. A FABRIC. AN ENGINE. A NATURE.  WHEN A MAN IS ABLE TO KILL THE CHRIST JUST BECAUSE OF HIS GREATNESS THEY COULD NOT MATCH, WHEN A MAN IS ABLE TO KILL HIS OWN BROTHER BECAUSE THIS BROTHER WAS CHOSEN BY GOD, THEN YOU THE PEOPLE OF THE WORLD  REPRESENT NOTHING IN THEIR EYES. IF YOU MISS THIS STARTING POINT, YOU MISS THE ENTIRE RATIONALE BEHIND SATANISM ON EARTH.
Our planet is a wonder into the hands of SATAN.
Satan is out there to watch you and build some reporting by the fake media – belonging to the satanic sphere –
Satan is out there to terrorize you, threatening you from behind-the-scenes on a regular basis.
Examples : Satan sentinels are out to tell you what to say, think about the Holocaust and how to bow down to it, without questioning anything or asking for a counternarrative, based on investigation.
Satan doesn't like research, or investigation, when it comes to verifying their falsified narrative and false legends, needly to talk about  the confiscation of intellectual properties and discoveries.  In the next future, be prepare to get plenty of revelations concerning abusive appropriations.
The satanic operative code is: what you discover, write or picture, even wear or buy, they steal it and kill you or silence you, threatening you in band. Your intelligence is for them to suck in on a daily basis.
Those rats never end their rapes and piracies. The scale of revelations about their secular thefts will surprise the World.
WHAT A GREAT NEWS. FORMER IRANIAN PRESIDENT, MAHMOUD AHMADINEJAD IS CANDIDATING ANEW. THE WORLD NEEDS MEN AS AHMADINEJAD. WIPING ISRAEL = THE JUDAIC CULTURE OF BIG THEFS AND ABUSES IN THE WORLD SHOULD BE SET PRIORITY NUMBER ONE. NEEDLY TO TALK A BOUT THEIR PROJECT : THE OCCUPATION OF THE WORLD.
Follow the list below :
THE CIA is occupied
The Pentagon is occupied
The FBI is occupied
Sanctuaries cities are occupied
The IMF is occupied
The United Nations is occupied
The World Bank is occupied
The International Criminal Court is occupied
The White House has been occupied after Ronald Reagan until Trump arrival on the Oval Desk
The NATO is occupied
The Fed is occupied
The EU is occupied
The fake western medias, masterthieves are the sentinels of occupation
Wall Street is the Temple of Occupation
Colleges are in the business of occup ation
Think tanks are soldiers of occupation
and the list goes on and on and on and on….
The NSA, the NRA, the Klan, United…
Airlines companies ? Cable operators ? Resorts ? Industries ?
Private prisons ?
NOW WE NEED A NEW WORLD TRADE ORGANIZATION FOR FREE AND FAIR TRADE INCLUDING THE END OF RAW MATERIAL COLONISATION IN AFRICA.
If Assad is such a focus by Israel, masterthief of the World, it is because of its oil and rich soil. Jewish mentality and prosperity is based on two axis :
First – Grab everything everywhere
Second – Kill the owner if he opposes the elected criminal people's will, i.e if he opposes any resistance.
When you can't do it openly, then generate a sordid scheme like the use of chemical weapons. Syria has been sanctioned and called by an ultimatum to get rid of its chemical weapons, during Obama's tenure. This was the condition sine qua non to avoid a military intervention.
Assad was obliged to comply with this foreigner order –
Those chemical weapons were burn by a committee nominated by the jewish-led international community – obeying their masters like pets and puppets.
And now, Assad has chemical weapons? C'on, it is such a joke.
Amazingly, Orthodox are Christians, not the Jews who never recognized Christ as the Savior.
Judaism is not Christianism. Chritianism starts with Christ birth. Judaism was announcing that Birth, but when the baby was born, the first decree of King Herode was to find him and kill him.
Judaism is a pre-Christianist stage. It is prehistory in religion. Not History.
…