A CHANGE OF WORLD IS LOOMING.
As I got the Ryan Grim's message – read below -, I noticed first that everything sounding like a Ben is not bizarre or explosive the likes of event behind the crash of a Russian plane on the Sinaï. Down the Hill may have inspired the Terrorists Jihadists actors (1) : hard to draw a line of separation between the opposition to Assad and the religious march promotion for a Caliphate declared born dead.
(1) It tells you a lot about the power of Hijacking.
Second, the email is suggesting that the cancer runs like a fold, a booklet like. Apparently, a deep insight could dig out the multiple ramifications of the cancer which has probably contaminated the entire Institutionnalized World.
The interesting question for Sherlock Holmes (3) is where is the Troyan Horse in America or WHO IS IT that gave way to this ? In other words we are in need of a carbon's datation to draw the chain of responsibilities and command and to repare the broken System of Poor Governance.
Look what America is looking like, after 200 years of independence. SOLD OUT TO BANDITS WALKING UNPUNISHED BECAUSE THE SAME LOBBYING IS BEHIND EACH POLITICIAN STANDING CORRUPT AND WEAK. THE PUPPET INDUSTRY HAS MORPHED INTO MONSTERS.
That research is getting corrupt is a TOTAL MONSTRUOSITY. IT GOES FAR BEYOND TREASON.
In our previous post, you have got another example of a french man sacked for telling the truth on climate change. Apparently, this untold truth is not acceptable inside the concert of  the announced global consensus FALSE or FALSIFIED  prophecies.
ITS A PITY THE WORLD HAS COME TO THIS IMPASSE. THE GOOD NEWS IS THE CHANGE OF WORLD IS SMELLING. INSTITUTIONAL REFORMS ARE AN EMERGENCY TO RESTART THE PROCESS AND TO CURE THE SOUL OF OUR BROKEN DEAR DEMOCRACY. A HUGE TASK LIES AHEAD. ITS NAME IS DEPARASITING. PREMONITORY, A NOBEL PRICE WAS AWARDED FOR THIS RESEARCH.

AS FOR THE EDITING WORLD IT IS A MAFIA. PURE SIMPLE. I EXPERIENCED IT PERSONALLY. TIMES AGO, THAT WAS IN 2007, I WROTE A BOOK ON THE INSTITUTIONAL CLONAGE AND THE DANGERS IT REPRESENTS TO OUR DEMOCRACY, TO OUR CULTURE AND FOR ITS POWER TO BREAK DOWN ECONOMIES – INSTITUTONAL CLONAGE IS A BRAKE AND A GROWTH DECELERATOR (2 read below), THE STUFF WE ARE DEBATTING ONLY NOW. AT THE TIME, NOBODY WAS AUTHORISED TO SPEAK OR TO PUBLISH ABOUT THE DANGER LOOMING. TODAY THAT A WAY HAVE BEEN OPENED HERE WITH TEARS AND SWEAT MY FEELINGS ARE MIXED.

ON ONE HAND, VULTURES ARE OUT CHANTING LOUDER HOW THEY HAVE DISCOVERED THE GRAAL BUT THEY COULDN'T SPEAK UP, NEITHER RISKING THEIR JOB. THEY JUST WAITED FOR A PAWN TO HEAD ON AN OPEN THE WAY TO COME BACK DANCING AND PRAISING GOD IN MARCH HANDS UP IN A SIGN OF ELEVATION.

WHERE THERE IS NO RISKS-TAKEN THERE IS NO VICTORY BUT OPPORTUNISM.

ON ANOTHER HAND I RECALLED HOW I WALKED UP AND DOWN THROUGH PARIS TO FIND A BOOK PUBLISHER OR SHOPER. I DO FOUND ONE OR TWO BOOKSHOPS THAT TOOK MY BOOK TO TEST IT. THE TEST WAS INCONCLUSIVE.

MANY FACTORS ARE IN QUESTION :

FIRST OF ALL, YOUR POSITION IN THE SHOP DEPENDS OF THE CRITICS BY THE MEDIA. IN AMERICA FOR INSTANCE, THR NYT AND ITS JEWISH COLLEAGUES ARE RUNNING THE BUSINESS – THEY ARE BOOK PUBLISHERS – PROMOTORS – SPONSORS – DEVELOPERS – SELLERS AND AWARDERS. IT IS NOT ONLY A MAFIA BUT A SCAM. UNIVERSITIES ARE MORE OF THE SAME GANGSTER FABRIC. NOT TO MENTION HOLLYWOOD.

IN MY CASE, AS A FORMER STUDENT OF LYON 2 UNIVERSITY I WALKED TO THE PRESS UNIVERSITY TO ASK FOR A PUBLICATION OF ANOTHER BOOK ABOUT EDUCATION AND HOW THE STATE – AS A NOTION – WAS SET IN AFRICA ALONG WITH EDUCATION -THE BOOK IS IN AMAZON. IT TITLES « HERVE ».

I WAS ABSOLUTELY SHOCKED TO SEE THAT A NEW DIRECTOR WAS JUST APPOINTED TO FIX THE PROBLEM OF RESEARCHERS PUBLICATIONS BY PRESS UNIVERSITIES INABILITY TO REACH TO MAINSTREAM.

THE NEW APPOINTEE AT THE PRESS UNIVERSITY OF LYON 2 WAS A COLLABORATOR OR JOURNALIST OF THE NEWSPAPER « LE MONDE ».  AT THAT TIME THIS NEWSPAPER WAS A STATE INSIDE THE STATE. A SUPERPOWER FORMER FIRST MINISTER LIONEL JOSPIN, RACING FOR PRESIDENCY, SAID : « YOU CAN NOT GOVERN IN FRANCE AGAINST LE MONDE ». A REAL PITY. THIS FORMER FM LOST THE ELECTION DRAMATICALLY BEHIND THE FAR RIGHT PARTY OF MR. LEPEN.

PRESIDENT CHIRAC GOT ELECTED LIKE A DICTATOR – IT IS AN IMAGE- THIS DICTATORIAL SCORING IS RELATED TO THE PRESENCE OF THE FAR RIGHT.

BUT THIS WAS NOTHING. IN 2007, THE FORMER FM LIONEL JOSPIN PUBLISHED A BOOK TO LAUGH AT MRS SEGOLENE ROYAL DEFEAT. NATURALLY THE MAN HAS WED WITH A JEWISH AS A SECOND WIFE TO GET ON THE MOUNTAIN TOP.

IN 2012, THE SAME LIONEL JOSPIN WAS BACK ACTING BEHIND THE SCENES AS A GO-BETWEEN BETWEEN JACQUES CHIRAC AND CANDIDATE HOLLANDE. THIS WAS DONE IN THE DARK SIDE WITH THE FORMER FIRST GIRL FRIEND OF PRESIDENT HOLLANDE NOW DESTITUTE BUT MILLIONAIRE AND REPLACED BY ANOTHER ONE. THE FIRST GIRL FRIEND WAS A JOURNALIST AT PARIS MATCH. THE SECOND ONE IS A MOVIE ACTRESS.

PARIS MATCH HAS HIRED THE FORMER FIRST GIRL TIMES AGO, AFTER A PHONE CALL BY PRESIDENT FRANCOIS MITTERAND, THE TROYAN HORSE WHO BROUGHT JEWS IN POLITICAL POWER IN FRANCE. THEY WERE ALREADY LEADING ECONOMIC POWER. NO RACE, POWER OR COMMUNITY SHOULD BE IN POSITION TO ACCUMULATE THE TWO POWERS : POLITICAL AND ECONOMIC. THIS POROSITY IS THE WESTERN ORIGINAL SIN AND ACHILLE HEELS. ADD TO THOSE TWO POWERS THE MEDIATIC AND CULTURAL ONES AND YOUR ARE JAILED. THE CASE IN FRANCE AND IN AMERICA WHERE PEOPLE ARE SUFFOCATING UNDER MULTIPLE HEADED SNAKES LOOKING AS HUMAN BEING.

TO CUT IT SHORT, LIONEL JOSPIN COMBINACIONNES AND VALERIE TRIERWEILER HEADING A JEWISH COALITION OF JOURNALISTS PLOT, THE TANDEM : ONE ACTING POLITICALLY AND ANOTHER DIRECTING THE ORCHESTRATED CHORAL OF JOURNALISTS' SHAMELESS PUSH TO MANIPULATE THE ELECTORATE TO ELECT HOLLANDE HAVE BUILT UP A PRESIDENT FOR FRANCE. AND THIS IS HOW YOU BECOME PRESIDENT TODAY. WITH A MASSIVE ANTI DEMOCRATIC CHEATING. TONS OF BOMBS LAUNCHED BY A GLOBAL MAFIA CARRIED ON BY THE INSTITUTIONS : RESEARCHERS – SCIENTISTS – POLICE – POLITICS – ECONOMICS – BANKSTERS – FINANCIAL SECTOR – SOCIAL ACTORS – MEDIAS – PUBLISHERS – ADVERTISERS TO NAME TO MOST INFLUENT – ALL OF THEM ACTING LIKE CLONES AND IN PACK. NATURALLY TERRORISTS ARE THEIR AFFILIATES. DON'T BE MISTAKEN.

IN THIS WORLD IT IS NOT THE MERIT FIRST OR THE POWER OF RESEARCH BUT MAFIAS FIRST.

THERE STILL ARE THREE EXITS :

JUSTICE
ACTIVE AND GLOBAL CITIZENSHIP
ELECTIONS STARTING IN 2016. THAT IS WHY THIS ELECTION IS CAPITAL. DON'T MISS THIS OPPORTUNITY. A NEW BOARD IS NECESSARY TO CLEAN AND HEAL THE SYSTEM. It may be anecdoctical, but the presidential campaign alert by Google received yesterday in me google box has disappeared. If there is a sector in need of new policing and surveillance right now, it is technology the new Havens of Robbery. In my yahoo box, some important emails are spammed. The case for EDF I didn't ask to spam. Those I'm asking to spam are not. Facebook alerts for instance. Regularly emails received for the green ecologic party (french europe ecologie les verts) are disappearing.
To

Business in USA

attention, and to other people use this alternative email : elisemirette@gmail.com It is more secure anyway. Yahoo is Microsoft and Microsoft is Tech as worst and false Philanthropy. Sorry. This philanthropy is a cover up. They know it as well and the idea that Africa can be used as a carpet to clean bloody feet or hands is not acceptable.

YOU SEE I'M COMING A LONG WAY AND STILL THERE IS A LONG WAY TO GO. BUT NOW I KNOW I'M NO LONGER ALONE. YOU ARE BY MY SIDE BECAUSE WE ARE IN THIS ALL TOGETHER.

This was not what I was planning to tell you today. But God is in command.

Ryan Grim email has modified the agenda. Institutional Building is Key.

(2) Higly recommended to you to see how profitable is the business of citizens and real productive workers blood sucking. Russian billionaire Oleg Deripaska has filed a lawsuit against Morgan Stanley, accusing the US bank of using insider information to make illegal profits and costing him millions.Sickening. And this is a common basic and permanent feature of business today, hijacked, corrupt and distorted. Spying is an identity. Laying off is a growth and social breaker.

Syria showcases How biaised the rule of democracy to circumvene the parliament can be. Cameron denies scrapping vote on Syria airstrikes after warning from MPs. Normally a PM has been elected and his actions are legitimate. But how to make sure His majestic rule is effective if the Parliament is out. The rule of law implies a separation between executive and parliament powers to avoid being Judge and side. That is how we reach impartiality, justice and cohesion.

The first compass here is Humility and far-sighting.

Now we don't ignore the politician game. That is why Referendum exists to break up political biaised blocage. Swiss is a good example for that.

⇒ Britain should be protected from 'ever closer union,' Osborne warns EU

⇒ But here is the hic UK Global surveillance on citizens is an unacceptable intrusion into personal lifes. If the Gov would have liked to do the NOW phase 2, it couldn't have legiferate otherwise. What is the necessity to replicate the dead wrong and harmful NOW's adventure ? We all know how all this has ended with blackmail, threats and freedom of speech trampled down.

Since when, gov have been able to localise terrorists prior to their attacks ? And all that time they have been spying on everybody illegally ? Even the cops and french intelligence failed to interpret an email between two young men taking hostages at a Jewish super market.

This is an eternal story : it always starts with pretty good intentions. In the end, the uses are devilish. With good intentions, you can end up making awful politics.

⇒ (3) The carbon's datation  verdict on the chain of responsibilities is telling this : Hamas says Britain must apologize for Balfour Declaration carving up Palestine. FOR GROSS ABUSE OF POWER NAMELY THE POWER OF HIJACKING.

Excerpts. Hamas released its statement Monday to coincide with the 98th anniversary of the declaration. It claimed the 1917 agreement between then British Foreign Secretary Arthur Balfour and influential Jewish community leader Baron Walter Rothschild is now null and void.

In September, Barbadian historian Sir Hilary Beckles reminded David Cameron that the prime minister's own family was enriched by slavery in the Caribbean colonies.

In July, Indian politician Shashi Tharoor debated Britain's past occupation of India at an Oxford Union debate.

"Britain's rise for 200 years was financed by its depredations in India. We paid for our own oppression. It's a bit rich to oppress, maim, kill, torture and repress and then celebrate democracy at the end of it," Tharoor said at the debate.

Slavery has always been the jackpot for many of our actual leaders whose families were slavers. Don't ask Jews, those opportunists-in-chief, to do another business but Slavery.

⇒ « Broken system': Cops accused of sexual misconduct jump from job to job, investigation reveals.

—————————–
« Emails show academic research up for sale by Ryan Grim
While it hasn't been written about much, it's fairly widely known that a lot of the think tanks in Washington produce « research » for the highest bidder. Or any bidder, really. It's harder, though, to get university-affiliated professors to do that. But newly obtained emails show that the payday lending industry has learned to do just that. A relatively new group called the Campaign for Accountability filed open records requests with several authors of studies on the payday lending industry. They hit paydirt.
The story, with Ben Walsh, is here: http://www.huffingtonpost.com/entry/payday-loan-study_5633d933e4b00aa54a4e4273?8svpldi
Also included in the emails, which we turned into a separate story, is this amazingly honest quote from a top payday lending figure: "In practice, consumers mostly either roll over or default; very few actually repay their loans in cash on the due date." Thanks for sharing!
Emails Show Pro-Payday Loan Study Was Edited By The Payday Loan Industry
The payday loan industry was involved in almost every aspect of a pro-industry academic study, according to emails and other documents reviewed by The Huffington Post. The revelation calls into question a host of other pro-industry academic studies that were paid for by the same organization.
While the researchers disclosed their funding source for the 2011 paper "Do Payday Loans Trap Consumers in a Cycle of Debt?" they also assured readers that the industry "exercised no control over the research or the editorial content of this paper."
The assertion was patently false, according to correspondence obtained from Arkansas Tech University through an open records request by the watchdog group Campaign for Accountability. The group subsequently shared the documents with HuffPost.
The Campaign for Accountability has filed requests for documents from professors at three other universities — the University of California, Davis; George Mason University; and Kennesaw State University — who produced similar pro-industry studies. So far, it has been met with resistance. Only Arkansas Tech turned over a cache of its records.
The emails show that the payday loan industry gave economics professor Marc Fusaro at least $39,912 to write his paper, and paid an undisclosed sum to his research partner, Patricia Cirillo. In return, the industry received early drafts of the paper, provided line-by-line revisions, suggested deleting a section that reflected poorly on payday lenders, and even removed a disclosure detailing the role payday lending played in the preparation of the paper.
Hilary Miller, the president of the Payday Loan Bar Association, a lawyers' group for the industry, worked closely with the researchers on their study. Miller has represented payday lending giant Dollar Financial, and is also the president of the pro-industry group the Consumer Credit Research Foundation.
« This revelation has significant implications for the other research that the Consumer Credit Research Foundation has funded, » an industry expert told HuffPost. The foundation's website lists six studies that it has funded in whole or part, all of which have influenced political debate over payday lending. Papers funded by the CCRF, by academics affiliated with George Washington University and the University of North Carolina at Greensboro, among others, have argued that payday lenders do not target black neighborhoods, that there is no good reason to regulate payday loans to the military, and that payday loans are cheaper for consumers than fees tied to bounced checks.
The Consumer Financial Protection Bureau will release a draft of of the first-ever federal rules regulating payday loans before the end of the year
The connection between a pro-payday loan group and academic research comes as there is increased focus on the financial industry's influence over what are apparently neutral studies. Last month, economist Robert Litan ended his affiliation with think tank the Brookings Institution after Sen. Elizabeth Warren (D-Mass.) criticized him for failing to adequately disclose that mutual fund behemoth Capital Group had funded one of his papers. Think tank research in Washington has become increasingly suspect as special-interest money has found such validation useful in the lobbying process.
Academic research is broadly considered to have more integrity. But documents shared with HuffPost show that in May 2011, a full six months before the Arkansas Tech paper was published in November, Fusaro emailed Miller to say that he was "pushing forward" on the revisions Miller had sent him. Miller also provided Fusaro with detailed line edits in July, August and November.

MARC FUSARO / CAMPAIGN FOR ACCOUNTABILITY
Beyond detailed revisions, Fusaro also added to the paper at Miller's suggestion at least twice. After doing this, he updated Miller to let him know that "we have edited sections 1 & 2 as you suggested."
Fusaro also added wording drafted by Miller himself. The emails show that in September, Miller sent Fusaro three paragraphs to be included in the paper. A few days later, Fusaro emailed Miller saying "I already incorporated the wording you sent…"
Fusaro did not include at least two significant portions of the paper that Miller did not like. First, Miller expressed concern at a finding that many payday loan borrowers have significant and frequent debit overdrafts in the month before they borrow a payday loan. Lending to borrowers with recently negative bank balances would undercut the industry's assertion that it provides credit to people who can afford it. Fusaro's co-author, Cirillo, told him in an email that she thought Miller wasn't "too happy" about the finding and that Miller said it wasn't the "objective of the study." Fusaro did not include a section on bank overdrafts in the paper.

PATRICIA CIRILLO / CAMPAIGN FOR ACCOUNTABILITY
Miller also requested that Fusaro remove a portion of the author's note that disclosed that payday lending companies had cooperated with the study. "The unnamed payday lenders and the unnamed blind reviewers do not need or want your thanks," Miller said. "It will actually undermine the lenders' objectives in participating in the study, if you do so." Fusaro did not mention the involvement of the payday lenders in the author's note.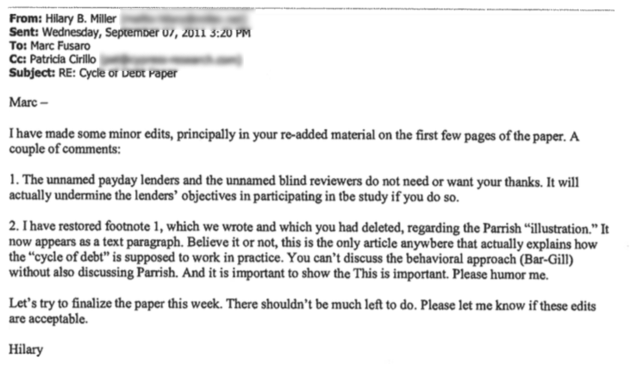 HILARY MILLER / CAMPAIGN FOR ACCOUNTABILITY
In one email to Cirillo, Fusaro defended — though with qualifications — Miller's involvement in drafting, editing and removing material from the paper. "For the most part, Hilary's comments did not undermine the integrity of the paper," Fusaro wrote.

MARC FUSARO / CAMPAIGN FOR ACCOUNTABILITY
For the study, the researchers gave some borrowers an interest-free loan and others a regular loan to see how interest rates impacted whether borrowers were likely to keep taking out new loans. Payday loans often trap borrowers in a cycle of debt, with a 2009 study from the Center for Responsible Lending finding that people taking out new loans to repay old loans make up 76 percent of the payday market.
After the paper was published, Fusaro complained to Cirillo that "the industry has forgotten about me." That could be, the industry expert who spoke to HuffPost explained, because "the industry got cold feet when they looked at the results…" Despite Fusaro and Cirillo's pro-payday loan and anti-consumer protection rhetoric, "they actually found that the median borrower has to use eight loans in a row, whether or not they get a free first loan," the expert said.
In other words, the data shows payday loan payments, irrespective of the interest rate, are simply unaffordable.
But the authors "airbrushed" the true implications of the paper's findings, the industry expert said. Instead of making the unaffordability of payday loans the thrust of the paper, the researchers framed the damning evidence that loans force people into an ever deeper cycle of debt as support for the idea that consumers simply choose to take out payday loans over and over again because they like to.
Fusaro and Cirillo did not respond to requests for comment on their work. In an email to HuffPost, Miller did not address his own edits, additions or deletions.
« At the time of copy-editing, at the investigators' request, we also incorporated the comments of two academic peer reviewers, each of whom was an economist at another academic institution. All of these edits were then approved by the investigators. The results of the experiment are unchanged and reported in full in the paper, » he said.
For payday lenders, academic research isn't just an intellectual exercise. Payday lenders are trying to create research that they can point to in order to argue against regulation. "Regulators are taking a hard look at the payday loan market, and the industry would like to be able to point to studies that suggest there is not a problem here, » Nick Bourke, a payday loan expert at Pew Charitable Trust, told Huffpost. « But in fact, on most of these issues, a fair reading of the data shows that there is a problem. »
That fact is well known to Miller, who said as much in an offhand remark in an email to the professor. « In practice, consumers mostly either roll over or default; very few actually repay their loans in cash on the due date (which you know), » Miller wrote to Fusaro, whom he was paying to author a paper arguing in the opposite direction.
Miller and the payday loan industry have cited Fusaro and Cirillo's paper in filings with federal regulators ».